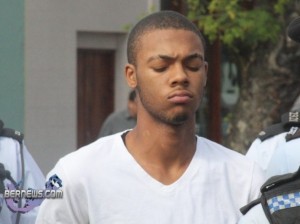 In Supreme Court this morning [Mar.9], in the case involving the alleged shooting of Randy Lightbourne by Marico Bassett, both the Prosecution with Mr Carrington Mahoney presenting for the Crown, and Mr Marc Daniels arguing for Mr Bassett, finished their presentations to the twelve person jury today.
Randy Lightbourne, 45, previously told the jury that he had recognised Mr. Bassett when the alleged gunman rode a motorcyle into the parking lot of Somerset's Charing Cross Tavern at approximately 5pm on July 23, 2010 and began shooting at him.
Mr. Lightbourne, who was shot 7 times, spent months recovering from wounds to his arm, abdomen and buttocks. Mr. Bassett, 20, was taken into custody soon after the shooting and charged with attempting to murder Mr. Lightbourne in July 2010, only days after the shooting. During the trial, the jury heard that the gun used was linked to multiple West End shootings — including last month's murder of Colford Ferguson,
In the summary today, Crown counsel Carrington Mahoney said the defendant allegedly shot Mr Lightbourne to gain favour with a west end gang he was said to be a member of. Mr Bassett's defense lawyer Marc Daniels claimed that that his client was not affiliated with the gang.
Justice Greaves then cautioned the Jurors, reminding them that they must not be influenced by anyone else, must not discuss the case with anyone else, and that they must remember that they are in the real world where "things can happen."
Justice Greaves said that his summation was likely to last two hours and that Jurors should ensure that they made personal "adjustments" so that they could sit through his entire summation without having a need to interrupt the flow of his summarizing of the evidence that had been presented.
Justice Greaves also reminded Jurors that they must make arrangements for things like childcare and transporting of others so that once they began deliberating, they would be able to continue their deliberations without a need to stop; and also without there being any time pressure for deliberations to be concluded within a certain time frame.
With that, Justice Greaves let the Jury go after ordering them to return in time for the start of his summation at 9:30am tomorrow morning.
[File photo]
Read More About
Category: All, Court Reports, Crime, News