[Updated] A man has been shot in the Border Lane area tonight [Mar 31]. Police officers have responded quickly to the scene and the area has been cordoned off. Approximately four or five gunshots were heard at 8:25pm, according to area residents.
About ten minutes after the shooting, some area residents were coming out in panic looking for their loved ones. We understand the situation to be extremely dire for the victim.
Update 8:43pm: Ambulance has arrived on the scene.
Update 8:54pm: This looks to be a worse case scenario, as the ambulance left without the victim.
Update 9:02pm: It is confirmed the victim has died, a 22 year old male.
Update 9:07pm: Police have cleared onlookers away and are taping off a larger area of the scene.
Update 9:55pm: Floodlights are being set up in the area, while Police continue their investigation. The area is blocked off from the Friswell's Hill, and Palmetto Road sides.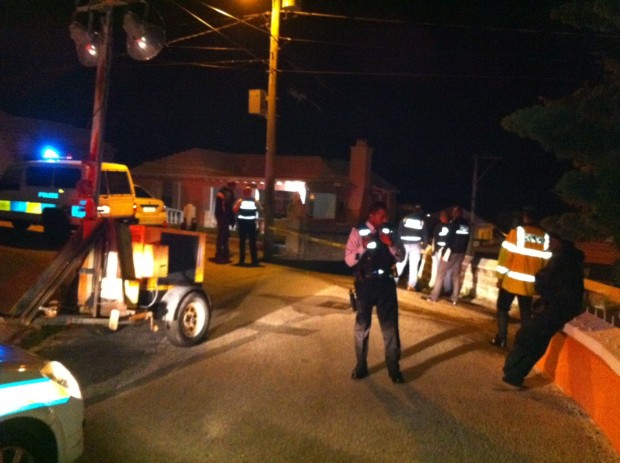 Update 10:17pm: Quick video of the scene here.
Update 10:36pm: Speaking with some area residents, they indicate the shooter[s] appeared to be on a bike.
Update 11:08pm: Official Police statement:
Around 8:25pm on Thursday, March 31st 2011 police responded to a report of a confirmed firearm incident that took place on Border Lane in Devonshire. On police arrival it was ascertained that a 22 year old Devonshire man was shot and subsequently succumbed to his injuries.

No further information will be given until the next of kin has been notified. Police are appealing for any witnesses or anyone who may have seen any person acting suspiciously in the Friswells Road, Border Lane or Roberts Avenue Devonshire area to contact the Serious Crime Unit on 295-0011 or the independent, confidential Crime Stoppers Bermuda hotline on 800-8477.
Update 11:23pm: Video statement from Police spokesman Dwayne Caines:
Update 1:00am: The Police Forensic Unit is still processing the scene.
Update April 1, 8:18am: The Police are still on the scene, and the top road of Border Lane, the Friswell's Hill side, is still cordoned off with crime scene tape. We are expecting an official announcement from the Police sometime today naming the victim.
Update 1:00pm: Live stream of the Police press conference:
Update 1:05pm: Police name the victim as Randy Robinson and confirm that four men have been arrested in connection with the incident.
Update 1:19pm: Live stream over, replay is now available.
Update 1:24pm: The full press conference video replay is available above, and we will post full statements soon, but in the meantime to summarize – the Police said that Mr Robinson was found in an unresponsive state at the scene, and was pronounced dead.  A number of persons have been interviewed, four people are in Police custody, whom Police said are previously known to them. Police are specifically seeking information about two men in dark clothing riding a dark bike in the Friswell's Hill, Border Lane and Palmetto Road around the time of the shooting [8:25pm]. In addition, Police have asked that anyone with any information, no matter how small, contact the Serious Crime Unit on 295-0011. Police said that they believe the shooting was gang related, but they said that is not to say the victim is a gang member. They said Westgate is full of senior gang members, but that when these positions are vacated, younger gang members "jostle" for position.
Update 3:38pm: Official Police statements from the press conference:
Detective Superintendent Antoine Daniels:
On behalf of the Bermuda Police Service, I wish to begin by expressing sincere condolences to the family, friends and colleagues of Mr. Randy Robinson who tragically lost his life at the young age of 22 last night.

About 8:30pm last night police received a number of telephone calls regarding the sound of gun shots in the Friswells Hill area.

Police immediately responded and on arrival 22-year old victim Randy Robinson was lying in an unresponsive condition on Border Lane North, Pembroke. Police observed that he sustained a number of what appeared to be gunshot wounds.A doctor attended the scene and certified death.

Police immediately commenced investigations into this matter under the direction of Chief Inspector Nicholas Pedro of the Serious Crime Unit and he is supported by a team of detectives.

The scene is being forensically examined by Bermuda Police Service Forensic Support Unit personnel in search of potential evidence. A forensic pathologist is also due to arrive on island in the coming days to conduct an examination of the deceased.

A number of persons both on scene last night as well as those identified via other investigative links have been and continue to be interviewed by investigators.

Currently there are 4 persons in police custody to be interviewed by Serious Crime Unit investigators

Investigators would like to make the following appeal:

Anyone with information regarding the identification of two men riding in the Friswells Hill Road, Border Lane and Palmetto Road areas last night on a black motor cycle, wearing dark clothing during the evening and night time hours leading up to and immediately after the shooting.
Any persons that were in the above named areas during evening or nighttime hours before or immediately after the shooting incident.
Any persons who have any information regarding this incident are asked to contact the Serious Crime Unit at telephone number 295-0011 or the independent, confidential Crime Stoppers Bermuda hotline at 800-8477.
Assistant Commissioner of Police David Mirfield:
Last night I witnessed first hand the inconsolable grief of a family, who in the blink of an eye experienced their beloved son gunned down in cold blood on the streets of Bermuda. I cannot even start to imagine how they feel but as a police officer I have lived with grief for far too long, the devastation is deep and irreversible. My heartfelt personal sympathy is with Randy's family and friends.

Once again a cowardly sickening attack has resulted in a young Bermudian man's death. You can ask the question and I do every day, when will this stop. My job and that of my colleagues in the police service is to catch and convict those responsible for these atrocities. We do that with marked success. We also play our role in prevention. Both of these require a consolidated approach from not only our partner agencies but the community as a whole.

I said only two days ago to the media that this type of tit for tat violence escalates rapidly. I have witnessed it here in Bermuda, and throughout my career. Stopping what is often an indiscriminate chain of events is absolutely crucial.
I appeal personally, we cannot continue on the same track, we can all play a part in this, yes the police seize all lawful opportunities we can set up road blocks, we can use our stop and search powers, we can break down the door of every known gang member in Bermuda, and we do plenty of that using all the lawful means at our disposal, and we will continue to act swiftly on all information regarding suspects and the location of guns bringing offenders to justice. But that alone will not stop the killings, the simple truth is we cannot be everywhere, communities can stop this and we are here to help them do it.
Bernews extends our sincerest sympathies to the victim's family and friends.
Anyone with any information is encouraged to contact the Serious Crime Unit on 295-0011 or the independent, confidential Crime Stoppers Bermuda hotline on 800-8477 or website, where tips can be left anonymously.
This is the third murder of 2011, following the murder of Jahmiko Leshore on March 1st in Devonshire, and the murder of Colford Ferguson on February 4th in Sandys.
Read More About