[Updated] The east end ruled the island-wide unofficial 'biggest kite' contest, with a homemade Bermuda-style kite over 20 feet tall attracting plenty of attention at the annual Gilbert Lamb Family Fun Day at St. David's County Cricket Club today [Apr.22].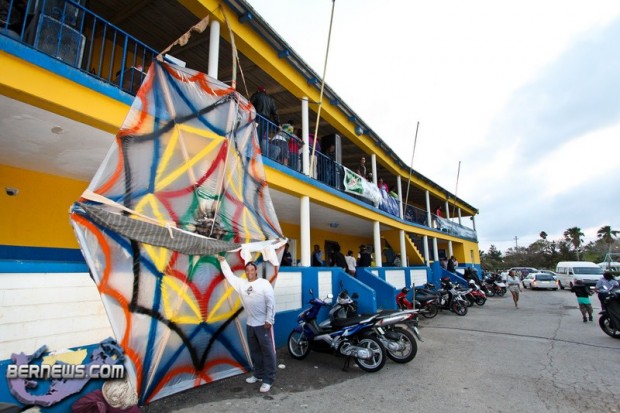 The kite maker, Ernest McCallan, said it was a 21-foot kite which was made with 16-foot lengths of 2×4, a 5-foot extended piece for the header and covered with plastic.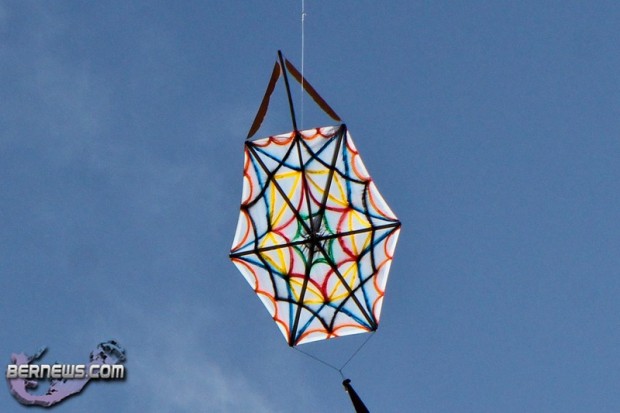 The kite was tied with a 500 foot length of rope which was affixed to a truck as the kite flew overhead. A video of it buzzing around overhead is below.
Update: The kite flew overhead for a few hours, and was then brought down through a joint effort of a number of individuals after the field was cleared to make space. Watch a brief clip of the kite being brought down below:
The video below shows the kite being carried away after coming down:
Additional coverage of the Gilbert Lamb Fun Day to come,and for all our coverage of Good Friday so far click here.
Update: 12 videos from St David's yesterday posted here. Go-karts, hot dog & beer drinking contests and more.
Read More About