The plan to repeat last year's performance of flying a massive kite in St David's on Good Friday did not go according to schedule, with the kite plunging to the ground a few seconds after it was launched.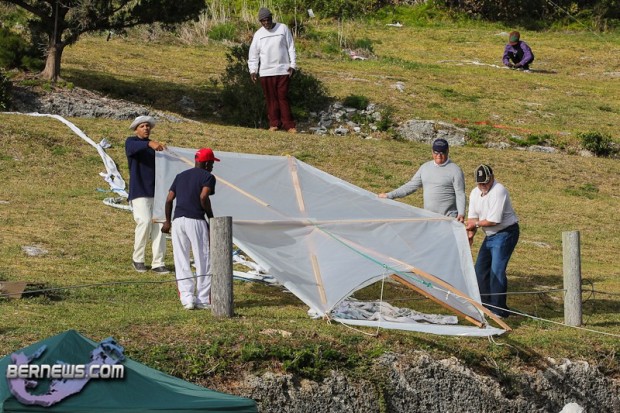 The attempt took place at St. David's County Cricket Club, who hosted their annual Gilbert Lamb Family Fun Day, an always popular event which attracts scores of people and features the Mohawk Grand Prix Go-Kart race.
The rope was stretched across the length of the field with men lining the rope ready to  hoist. They made at least two attempts, with neither effort seeing the kite fly for more than a few seconds.
During this procedure, there was no shortage of Bermudians stepping forward with advice, with extensive debates taking place about the length of the tail, the kite's loop as well as the launch technique
Second attempt to launch the kite:
Last year a 21-foot kite was successfully launched, and flew above the grounds for most of the day. Built by St David's resident Ernest McCallan, the kite was made with 16-foot lengths of 2×4, a 5-foot extended piece for the header and covered with plastic.
Last year's massive kite being brought down:
Read More About