[Updated with video] The Bermuda Day parade got underway at Bernard Park at 1:30 p.m. today [May 24], moving along Dutton Avenue on to Marsh Folly Road. You can watch a live webcast of the parade here.
Almost 50 floats, dance trucks and musical troupes including the Gombeys and dance majorettes are taking part in this year's festivities. Some of the entries are seen here at Bernard Park shortly before the parade started.
Among the Bermuda Day parade float entry winners were the Bermuda National Library, named Best Government Department and also the recipient of the Minister's Award for Most Original, while the Department of Corrections came in second and the Department of Community & Cultural Affairs placed third.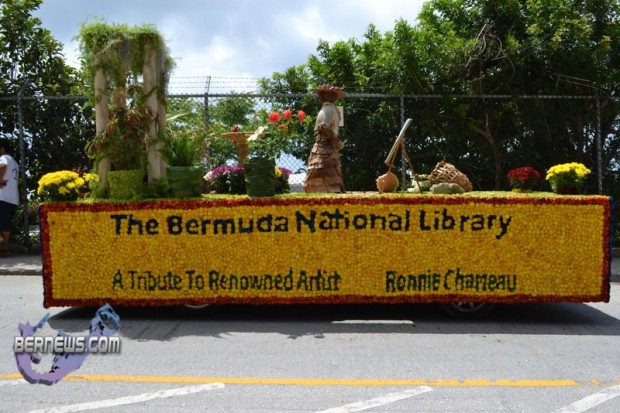 Winner of the Best Community/Volunteer/ Political Award and Ruth Thomas Award Heritage Award was St. Marks Anglican Church, Smith's Parish, who showcased a float featuring a miniature replica of the church. The Bright Temple A.M.E. Church placed second and'Stand Up Bermuda's anti-violence themed float came in third.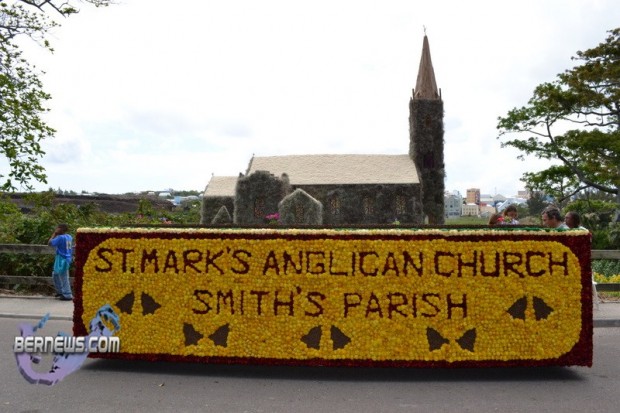 The Bermuda Autism Society was the recipient of the Reggie Ming Award  for Most Beautiful float.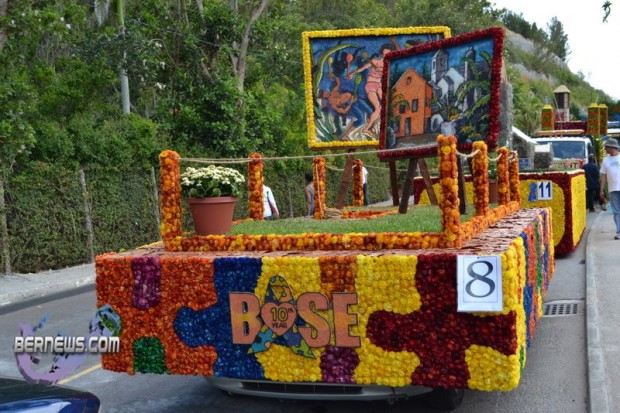 The D. J. Williams Award [Best School – Middle] was won by T N Tatem Middle School, who also won the Premier's Award [Best Float].
Performances began along Cedar Avenue with the parade making a left turn on to Church Street, a right on to Court Street, through Front Street, and a final right on to Queen Street. As the parade got to the top of Queen Street, the floats made a right turn on to Church Street for parking in front of City Hall.
The dance trucks, however,  made a slight left turn and then proceeded along Wesley Street, unloading dancers at the performance site and moving on to the back of the city via Park Road.
Other winning floats included: The Dr. Kenneth E. Robinson Award [Best School – Primary] was awarded to Prospect Primary; D. J. Williams Award [Best School – Middle] second place went to Sandys Secondary Middle School in second. Community Honourable Mentions went to The Mid-Atlantic Boat Club and the Bermuda Nurses Association.
Click to enlarge:
Read More About