[Updated] The May 24th Holiday is winding down, with the Marathon, Sinclair Packwood Memorial Cycle Race, Dinghy Races and Bermuda Day Parade all complete. Below there are links to our live coverage from the day, with much more to come this evening.
Update May 25: 150 photos of parade added here, and over 30 videos added on Bernews TV.
Update 7:20pm: Video and results of the May 24th Fitted Dinghy Races posted here.
Update 6:58pm: Photos of the 'Stand Up Bermuda' float posted here. May 24th videos still going up on Bernews TV.
Update 6:04pm: Full results of the May 24th Marathon posted here.
Update 5:45pm: Full results of the Cycling Race posted here.
Update 4:45pm: We are uploading videos on Bernews TV.
Update 4:41pm: Parade over, the 3 hour webcast replay is below, fast forward by dragging the bottom bar:
Update 3:30pm: Photos of the Miss Bermuda contestants in the parade posted here.
Update 3:27pm: Photo slideshow of the first part of the parade below:

-
Update 2:41pm: Photos and results of the Bermuda Day Float competition have been posted here.
Update 2:30pm: There have been 17 groups perform, with 30 remaining. Video of the Vasco Club Folklore Dancers below:
Update 2pm: Quick video of the Gombeys:
Update 1:44pm: Michael Cranfield has posted over 500 photos from this morning on Flickr. They will be up for 21 days.
Update 11:29am: Live stream of race over, we will be back streaming the parade at 1:30pm
Update 11:14am: Video of the female winner Deon Breary crossing the finish line with great excitement:
Update 11:10am: A few words with Chris Estwanik, who claimed his 4th consecutive May 24th title today:
Update 10:53am: Photo slideshow of the runners and cyclists in Southampton:

-
Update 10:50am: Quick video of the runners at the initial part of the race:
Update 10:44am: Deon Breary wins the Women's, with Victoria Fiddick in 2nd. Ms Breary entered Hamilton in second place behind Jennifer Alen, however Ms Alen collapsed with about a mile and a half to go.
Update 10:43am: Jeremiah Steede and Quasshie Douglas are the Male and Female Junior Champions. In the men's category, Olympic skier Tucker Murphy finished 4th and Jay Donawa rounded out the top five.
Update 10:26am: Both Sean Trott and Lamont Marshall came racing in together and battled to the end, with Lamont Marshall taking the 2nd place spot, and Sean Trott in 3rd.
Update 10:22am: Chris Estwanik has won, with his time approximately 1:08.26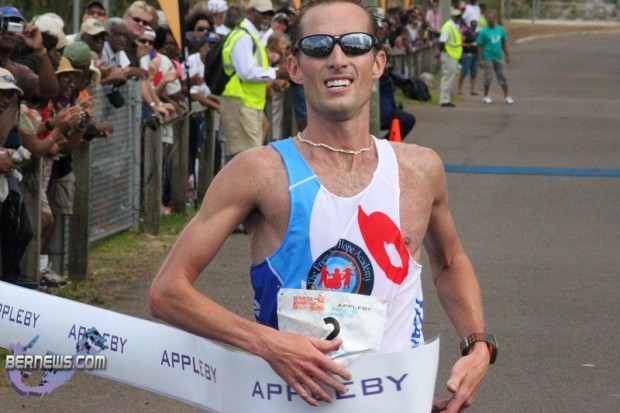 Update 10:15am: Chris Estwanik is in the Hamilton area, and continues to hold the lead – which he took from Somerset and has not conceded through the race. The question at this time seems to be more will Mr Estwanik break his record or not, as he has a commanding lead. Trott and Marshall are in 2nd and 3rd at this time.
Update 10:03am: Sinclair Smith is leading the walkers
Update 9:55am: Nick Jones, commentating for the BBC, has called it – saying it looks already as though Chris Estwanik looks ready to repeat his victory.
Update 9:50am: Huge cheers can be heard for the veteran Ray Swan as he came through the west end.
Update 9:48am: Darren Glasford won the Mens Cycle Race, with Damian Sharp in 2nd and Wayne Scott in 3rd. Nicole Mitchell won the Womens, with Karen Bordage in 2nd. Dominique Mayho won the junior male.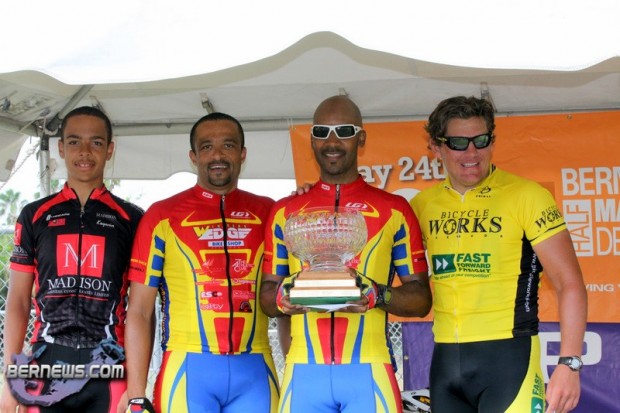 Update 9:46am: Lamont Marshall is running in third, with Sean Trott in 2nd, and defending champion Chris Estwanik still leading the pack
Update 9:42pm: Deon Breary is leading the women at this time.
Update 9:35am: Defending champion Chris Estwanik continues to lead the pack. Crowds are lining the streets and loud cheers can be heard.
Update 9:20am: Cycling race is underway, with approximately 70 cyclists competing
Read More About