Bermuda Day is the traditional opening day of the Fitted Dinghy season. The 2011 Bermuda Fitted Dinghy Racing Season got underway in the St George's Harbor, Contest III with Somers Kempe at the Helm won all three races on the day taking the Heritage Trophy, Anniversary and Leon D. Fox Cup's.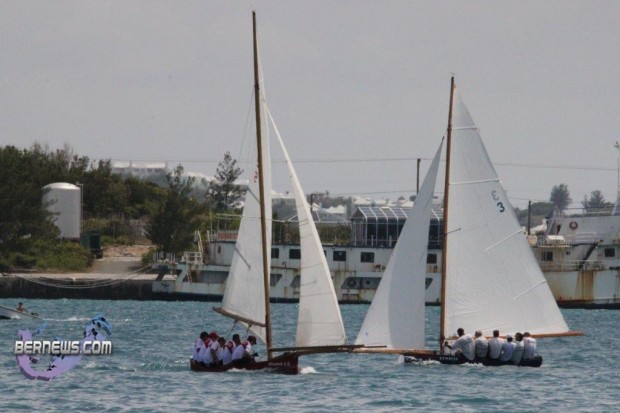 In the first race of the day the Heritage Trophy race, Challenger II with skipper Martin Siese finished second while Victory IV with Mark Soares finished third and John Nicholls sailing Elizabeth II sank. In the Anniversary Cup race Victory IV finished second, with Elizabeth II finishing third and Challenger II dropped out.
The final race of the day the Leon D. Fox cup race saw Challenger II leading on the first leg, until one of the five crew members fell overboard, while attention went to him for a brief moment Contest III sailed by, Challenger II with one less crew finished second, while Elizabeth II finished third and Victory IV sank.
Heritage Trophy
1. Contest III
2. Challenger II
3. Victory IV
4. Elizabeth II – Sank
Anniversary Cup
1. Contest III
2. Victory IV
3. Elizabeth II
4. Challenger II – Dropped Out
Leon D. Fox Cup
1. Contest III
2. Challenger II
3. Elizabeth II
4. Victory IV – Sank
Read More About