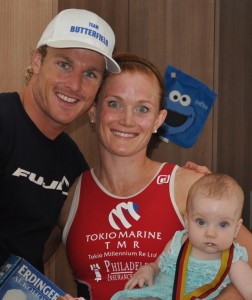 Both Tyler and Nikki Butterfield competed in Austria yesterday [June 12], with Nikki Butterfield picking up a second place finish.
Radka Vodickova was dominant in the swim finishing with a 3.30 lead out of the water. Mrs Butterfield was the fastest biker on the day though she was by no means as demonstrative as last week only taking one minute out of Ms Vodickova's swim lead. Mrs Butterfield finished off with the fastest run for the day in 39 minutes.
Tyler Butterfield was unfortunately still feeling the effects of the illness that stopped him from starting in Darmstadt last week, and finished in 14th place.
Some 400 athletes took part at the first 5150 in Klagenfurt, after heavy rain showers in the morning the sun came up and attracted numerous fans and spectators around the Lindner Seepark Hotel area.
After five years out of the sport to pursue her Olympic dream as a cyclist, and just 5 months after having her first child, Nikki Butterfield returned to her origins as a triathlete with a podium finish in Germany at the Darmstadt 5i50 last week.
Read More About