[Updated with videos/statement] Earlier this afternoon [July 23] the L.F. Wade International Airport was evacuated, and emergency personnel attended, and temporarily blocked the entrance.
The scene created a back log of traffic attempting to enter the Airport, and the sight of fire trucks also attracted several members of the public: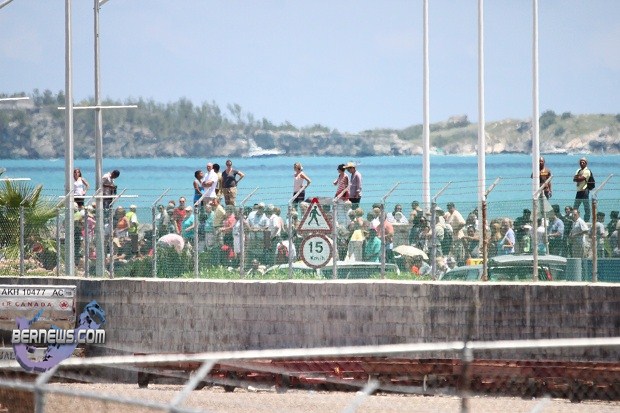 After a period of time, passengers were allowed back into the terminal and it appeared that passengers who had already cleared U.S. Customs were sent back to repeat the process, while all other persons were sent back to the airport check-in line.
Confusion was evident, and at one point a US Customs official stood on a counter, and attracted everyone's attention with a whistle before making an announcement, which was somewhat impeded by a beeping alarm going off in the airport at the same time.
US Airways Flight #1298 which was supposed to head to Charlotte at 4.45pm is now listed as being delayed, as is Delta Flight #560 to Boston, which was scheduled to depart at 5.00pm.
We have not yet received a response to our inquiry, however we unofficially understand that the evacuation was due to a fire alarm going off. The Bermuda Fire & Rescue Service attended and we understand there was no sign of smoke or fire, and the evacuation was done as a precaution. We will update with official information as able.
Update July 23, 11:15am: Official statement below.
At 1:51 p.m. this afternoon, Saturday July 23, 2001, there was an audible alarm fire alarm activation at L.F.Wade International Airport. The emergency services were notified and Airport Security Police were advised to assist in evacuating the Terminal.

All passengers, tenants and workers were evacuated to the allocated Muster Stations under the direction of Airport Security Police and other Airport personnel.

At approximately 1:59 p.m. Bermuda Fire and Rescue Service (BFRS) were at the Terminal and a search of the Baggage Hall and surrounding areas was conducted with negative results.

There were no signs of smoke or fire, therefore attention was directed to the sensors and pull stations in one particular area of the terminal building which also had negative results.

After approximately 40 minutes, the BFRS made the determination to allow staff, tenants and departing passengers to re enter the Terminal building after confirming that there were no signs of smoke or fire.

At 3:10 p.m., all arriving passengers were allowed back into the Terminal. As a result of the activation, AirTran flight 1815 was delayed 15 minutes. An investigation into the cause of the alarm is underway.
Read More About