The PHC Foundation held its fourth annual scholarship awards presentation on Monday July 25, 2011 at XL House. In total, $39,800 was awarded to ten young men to assist in their studies at prep school, Bermuda College and university.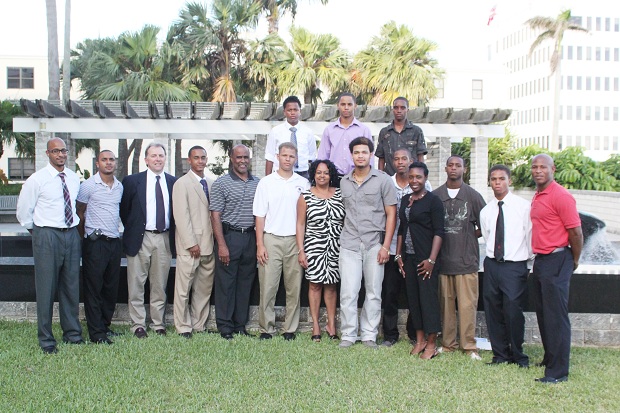 Over the last three years, the PHC Foundation has given over $100,000 to young people at PHC to assist in their education. Guest speaker for the event was CEO of Catlin (Bermuda) Graham Pewter who encouraged the award winners to master their discipline by putting in 10,000 hours of work into their goals and dreams.
He also noted the positive contribution of international business to Bermuda's economy and encouraged the young people in Bermuda to take part in it.
The awards presentation was also attended by the President of the BFA Larry Mussenden who said that the PHC Foundation is a model for the BFA and other clubs in Bermuda.
Family, friends, and guests of the recipients were also in attendance as they celebrated their positive accomplishments. Senior year prep school student Tre Ming was very appreciative of his award and said, "It gives me that needed help in the financial field and it will help me on my life's journey."
Sophomore KC Castle was grateful for the role that football has played in assisting him to pursue his BA in Finance at the University of Indianapolis. He mentioned that football has taught him determination and discipline which is what one needs to accomplish their goals.
Mother of awardee Khamisi Lightbourne said, "I'm grateful for the committee and all involved with the PHC Foundation in giving the youth opportunities to excel in higher education. I'm especially pleased for my son in receiving a scholarship award."
The PHC Foundation was founded in 2005 and its primary objective is to assist young people at the club to pursue higher education. For more information, visit the PHC website at PHC.bm or their Facebook page.
2011 Bursary Winners:
1. Na'eem Griffith (Catlin Award) $5,000 – Senior at Darlington Prep School
2. Shakhai Trott – $4,000 – South Kent Prep School
3. Shaquille Trott – $4,000 – Thomas College
4. Tre Ming – $4,000 – South Kent Prep School
5. Khiari Lespere – $5,000 (2nd part of 10k scholarship awarded in 2010)
6. Khamisi Lightbourne – $4,000 – Thomas College
7. De'aun Lodge – $4,000 – Royal Alexandra & Albert Prep School in UK
8. Marco Warren – $4,000 – Flagler College
9. Shaquille Codrington – $1,800 – Bermuda College books
10. Casey Castle – $4,000 – St Francis University
Read More About