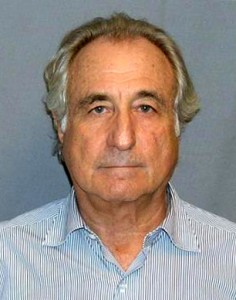 The trustee liquidating Bernard Madoff's defunct firm sued Somers Dublin Ltd., an Irish affiliate of HSBC Holdings Plc, along with its Bermuda subsidiary seeking $86.4 million.
Trustee Irving Picard said he aims to recover "customer property" from companies that invested with Fairfield Sentry Ltd., a so-called feeder fund that placed money in Madoff's Ponzi scheme. Mr. Picard demanded the return of any funds received from investments with Fairfield, according to the lawsuit filed this week in US Bankruptcy Court in Manhattan.
HSBC Securities Services [Ireland] Ltd. owns Somers Dublin, which has offices in Dublin, according to the complaint. HSBC Holdings, based in London, is Europe's biggest bank. Somers Nominees [Far East] Ltd., a Bermudian company, was also named in the lawsuit.
Somers Dublin officials couldn't immediately be reached for comment on the lawsuit after business hours in Ireland.
Fairfield is in liquidation in the British Virgin Islands.
Bernard Lawrence [Bernie] Madoff  [pictured] admitted operating of what has been called the largest Ponzi scheme in US history.
In March 2009, Mr. Madoff pleaded guilty to 11 federal felonies and admitted to turning his wealth management business into a massive Ponzi scheme that defrauded thousands of investors of billions of dollars. The court-appointed trustee estimated actual losses to investors of $18 billion.
On June 29, 2009, Mr. Madoff was sentenced to 150 years in prison, the maximum allowed.
Read More About