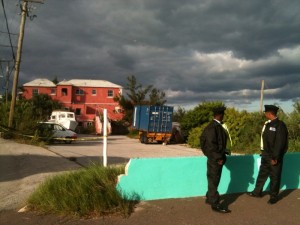 Two men appeared in Magistrates' Court today [Oct.13] charged in connection with the shooting outside Gravity Nightclub in Devonshire at 3:15 am this past Saturday [Oct.8]
22-year-old Pelealkhai Williams and 28-year-old Jonathan Dill were charged with conspiring with others to kill Rodney Grimes, 24.
The pair did not enter pleas, as the matter can only be heard in Supreme Court. They were remanded in custody.
As Bernews previously reported, the court heard that the bullet grazed Mr Grimes' head and hit his ear.
Detective Chief Inspector Nicholas Pedro said: "Two men, Pelealkhai Williams and Jonathan Dill, appeared in Magistrates' Court on Thursday, October 13, 2011 charged on indictment in relation to the shooting of a man outside the Gravity Nightclub in the early hours of Saturday, October 8.
"Williams and Dill were jointly charged with 'Conspiracy to Commit Murder' & 'Conspiracy to Commit an Indictable Offence Using a Firearm'. Williams was additionally charged with 'Possession of a Prohibited Weapon (Firearm)'.
"The Bermuda Police Service would like to thank those members of the public that have come forward to assist the investigating team. However, we are still interested in speaking with any members of the public who may have witnessed the incident or that can provide information or evidence to contact the Serious Crime Unit on 295-0011 or the independent Crime Stoppers hotline on 800-8477.
"The firearm used in this matter has not been recovered and we are urging any member of the public that can assist in its recovery to contact the Serious Crime Unit on 295-0011 or the independent Crime Stoppers hotline on 800-8477."
Read More About