[Updated - Police confirm shooting, say no reported injuries]
Police are diverting traffic in the South Road round-a-bout area in Paget this afternoon [Oct.5], and are conducting an investigation in the area.
Officials have remain tightlipped at this point and are restricting access to the area, however unofficial reports indicate there may have been a shooting.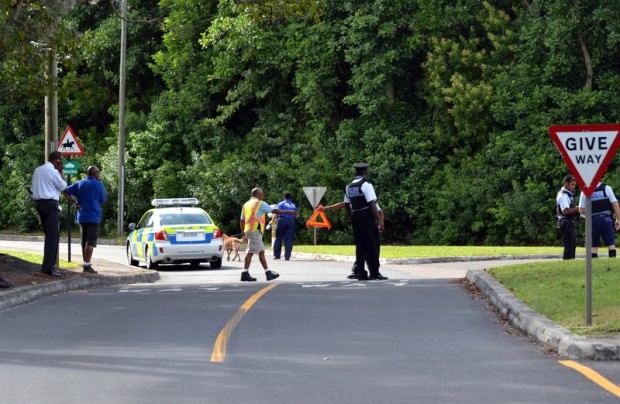 Traffic is severely backed up in the East Broadway/Berry Hill Road/Trimingham Hill areas. Police can presently be seen searching the road area, and the canine unit is also on the scene.
We have limited information at this time, but will update as able.
Update 3.20pm: The Officer in Charge of the Serious Crime Unit Detective Chief Inspector Nicholas Pedro has arrived on the scene. Officers appear to be paying specific attention to the road area of the actual round-a-bout.
Update 3.45pm: Traffic is backed up in multiple directions while the Police continue their investigations.
Update 3.54pm: Police say that it appears that no one has been reported was injured at this time, but have confirmed that there was a shooting. They are seeking witnesses who may have seen two persons on a bike leaving the area heading east on South Road. Full police statement coming shortly….
Update 3.57pm: Police are beginning to slowly allow some traffic through the area.
Update 4.03pm: Police confirm a shooting at 2.20pm in the South Round-a-Bout area, and said there are no reported injuries. Video below of Police Spokesman Robin Simmons being interviewed by ZBM:
Update 5.10pm: Official Police statement follows below:
Around 2:20pm on Wednesday, police responded to a confirmed firearm incident at South Round-a-bout near the junction of South Road and Trimingham Road in Paget.

Forensic evidence found in the area suggested that a firearm had been discharged; however no one has reported being injured. An active investigation into this incident is underway.

Traffic was initially diverted away from the area while investigators examined the scene, but traffic has since been allowed to flow normally.

Police are appealing for any witnesses, particularly anyone who may have seen two men on a motorcycle in the vicinity around the time of the incident or anyone with any information to contact the Serious Crime Unit on 295-0011.

Alternatively, an anonymous call can also be made to the independent, confidential Crime Stoppers hotline at 800-8477.
Read More About