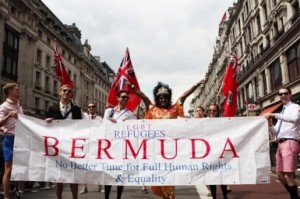 Bermuda is celebrated as "the Queen's pearl in the sea" in the latest issue of "G-Life", a British publication aimed at young gay professionals.
In a six-page full colour spread written and photographed by Francko Harris — who grew up on the island — Bermuda's beauty and tranquility is discussed along with the island's ambivalent view of homosexuals.
"It had been four years since I left and to be honest I was a bit sceptical as I was sure I had outgrown Bermuda and become accustomed to certain pertinent liberties being a gay man in London," said Mr. Harris in his article entitled "The Beauty of Bermuda.
"[Bermuda] is 21 miles of pink sand beaches [yes, really pink!], palm trees and crystal clear ocean. It is an island although technically not classified as a Caribbean island because it is all by itself, secluded in the middle of the Atlantic away from any other island or country."
London is now home to a large community of gay and lesbian Bermudian expatriates. Some participate in that city's annual Pride Parade celebrating sexual diversity, with acclaimed female impersonator Sybil Barrington flying to the UK to lead the local contingent in the last march [pictured].
"Growing up gay in Bermuda was not the easiest although I enjoyed every second of it. Bermuda [has more] churches per square mile than any other place on the planet. However, over the years Bermuda has seen its gay community bloom. Gone are the days of being 'the only gay in the village'. There are drag shows and even a secret [although not so secret] gay beach .."
Mr. Harris said he was surprised to see how "blatantly gay" Bermuda had become on his recent return to the island.
"The gay community is still fighting to get the words 'sexual orientation' added to the Human Rights Act," he said. "This is a major part [of a lobbying] campaign at the moment.
"With that said it still does not stop or hold back any gay from twirling up and down the city or kissing their partner in the club."
Mr. Harris encouraged the magazine's upscale British readership to visit the island, praising Hamilton's nightlife ["a very fun collective of people"] and restaurants ["dining in Bermuda is an amazing experience"].
"All in all if you can get the opportunity to travel to Bermuda and I am sure you will not be disappointed and will be begging for more," he said.
Read More About