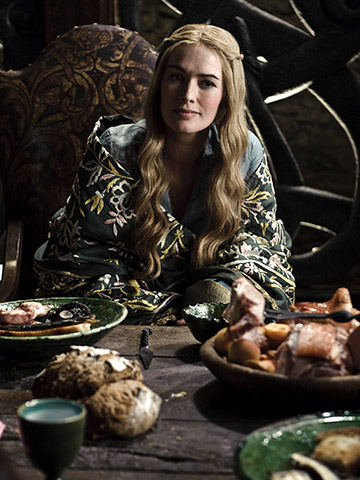 Bermuda-born actress Lena Headey returns to TV screens this weekend as the willful, ambitious and politically skilled Cersei Lannister when the hit HBO series "Game Of Thrones" begins its second season on Sunday [Apr.1].
Based on the Medieval fantasy novels by George R.R. Martin, the series is set in the Seven Kingdoms of Westeros.
"Game Of Thrones" chronicles the violent dynastic struggles among the kingdom's noble families for control of the Iron Throne; as the series opens, additional threats from the snow and ice covered region north of Westeros and from the eastern continent across a narrow sea are simultaneously beginning to rise.
The critically acclaimed and highly-rated TV series also stars Sean Bean, Mark Addy, Michelle Fairley and Nikolaj Coster-Waldau.
Born in Bermuda in 1973 while her father John worked for the Bermuda police, Ms Headey lived here until she was six when her family returned to England. She embarked on her acting career at the age of 17 after she was discovered during a school theatre performance and given a role opposite Jeremy Irons in the 1992 movie "Waterland".
For fans of "Game Of Thrones", Ms Headey's character is one they love to hate. The "Los Angeles Times" described Cersei Lannister as "a woman in total control but much of it is facade hiding her self-loathing. She is haunted by a marriage catastrophic joke as well as the longtime incestuous relationship with her twin, Jaime [Nikolaj Coster-Waldau], and bitterness about the general powerlessness of women in the kingdom of men."
"I think she is deeply, deeply fearful," the 38-year-old actress told the West Coast newspaper this week. "She sleeps with fear in her soul. She is full of terror and paranoia and insecurity. She hides it with stillness. She does not move much and that's been a real challenge for me. I fidget. She's like a cobra, she's a snake just waiting and waiting… the hard thing is it's freezing where we film [in Belfast] in a shipyard for five months a year and I'm there in a silk dress trying to be totally still."
After starring in the TV series "Terminator: The Sarah Connor Chronicles" and appearing in memorable roles in the movies "300," and "The Brothers Grimm" Ms Headey will next be seen with Karl Urban in "Dredd" — an upcoming film adaptation of the ultra-violent British comic about a future-cop called Judge Dredd.
Lena Headey discusses her "Game of Thrones" character Cersei Lannister


Read More About
Category: All, Entertainment, Films/Movies