For the first time since its rediscovery in 1951, the population of Bermuda's National Bird — the critically endangered Cahow — has passed the landmark number of 101 nesting pairs, the Department of Conservation announced today.
Abundant when Bermuda was first discovered, the ground burrowing Cahow was quickly decimated by introduced predators such as rats, pigs, dogs and cats, and hunting by the early settlers.
During a major famine in 1621 Governor Moore sent one hundred and fifty of the most weak and sick settlers "to Cooper's Isle, where were such infinite numbers of the birds called "Cahowes", which were so fearless, they might take as many as they would…they so much consumed and wasted by carelessness and surfeiting, many of them (settlers) died " from over indulgence.
The first Cahow chick of 2012 is pictured below, in a photo courtesy of the Conservation Department: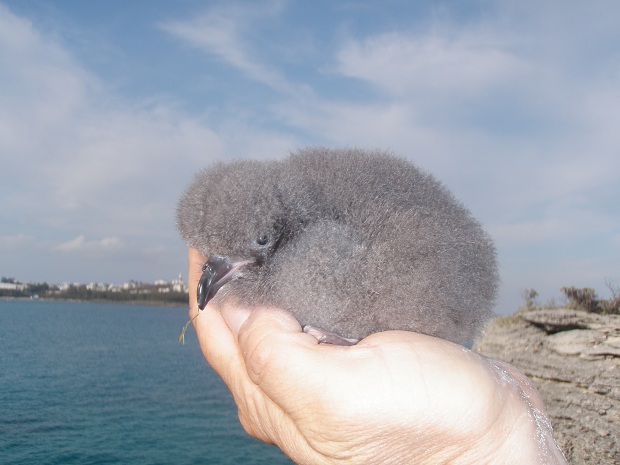 The Cahow soon disappeared from the historic records and it was thought to have become extinct. In 1951 the Cahow was miraculously rediscovered on several small rocky islets but the entire population consisted of only 18 nesting pairs, with the entire population only producing 7 to 8 chicks annually.
For the last 50 years the Cahow Recovery Program has been one of Bermuda's priority protected species projects. Now managed by the Terrestrial Conservation Section of the Department of Conservation Services the team works hard to control predators, build artificial nest burrows, and carry out research to better understand the Cahow and enable it to recover.
With this assistance the Cahow continues to move towards becoming a self sustaining population. Last year the Cahow increased to 98 nesting pairs producing a record 56 fledged chicks. The 100 nesting pair mark was met this year.
Michael Weeks, Minister of Public Works, said: "This achievement is a fitting milestone to celebrate Bermuda's 400th anniversary of colonization. I offer my congratulations to all those who have dedicated their lives to protecting the Cahow ensuring it not only survives, but thrives."
Jeremy Madeiros, Senior Terrestrial Conservation Officer, said: "The Recovery Program has reached a critical milestone, but the ultimate objective is to increase the number of nesting Cahows to at least 1000 nesting pairs.
"That is the only point at which it can be down-listed from "critically endangered" to "threatened". 1000 pairs is still a small number for the entire planet, as the Cahow is completely endemic or unique to Bermuda, nesting no-where else on Earth."
Read More About
Category: All, Environment, News