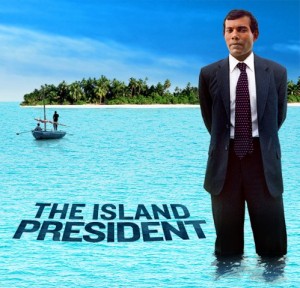 The 15th Bermuda International Film Festival [BIFF] has a triple bill of major foreign film releases –including an Oscar-nominated Israeli drama — screening on Tuesday [Mar. 20] which are sure to educate, stimulate as well entertain local audiences.
One of the most well-received Korean films of 2011, director Hong Sangsoo's latest work "The Day He Arrives" is characteristic of the auteur's comic dramas.
The film follows a regional college professor and occasional filmmaker on a trip to Seoul, and proceeds to show versions of what could have been a day or perhaps several different days. As with most of the director's other idiosyncratic works, the film has a very Korean setting for almost subtle character interaction that makes for interesting viewing as well.
"The Day He Arrives" takes place mostly in the Bukchon district of Seoul, which is known for its traditional Korean-style houses and artistic atmosphere which is filled with cafés, galleries and a public library.
"Hong Sangsoo's latest bulletin from the sex-war is a typically wry and droll account of a man visiting Seoul to look up old friends and running into new ones," said UK critic Tony Raynes.
"Nobody who's seen a Hong Sangsoo film before will be surprised to hear that 'The Day He Arrives' centres on drinking, social embarrassments, seductions and rejections. The surprise is that – once again – it all feels so fresh and unfamiliar.
"… The new film is sometimes riotously funny, sometimes tremendously moving, sometimes both at the same time."
The film is being screened at the Liberty Theatre at 1 p.m. on Tuesday afternoon.
Trailer For "The Day He Arrives"
President Mohamed Nasheed governs the small territory of the Maldives, but he's capable of wielding a large influence over anyone who watches the 2011 documentary "The Island President."
Unlike most politicians, Nasheed is refreshingly blunt and unafraid to challenge conventional thinking.
He spent two decades leading a pro-democracy movement against a cruel dictatorship in his country, suffering imprisonments and torture, until groundswell support got him elected president at age 41.
Suddenly he found himself facing a new crisis: the possible extinction of his own country. The Maldives is composed of twelve hundred coral islands off the coast of India (of which two hundred are occupied).
If ocean levels continue to rise at their current rate, the region will be submerged like a modern Atlantis.
"The Island President", directed by Jon Shenk, gains remarkable access to Nasheed's first year in office as he sets out to influence the world's superpowers.
The story culminates at the 2009 Copenhagen climate summit, where we get a rare insider's look at political deal-making.
Though Copenhagen was judged by many as a failure, it marked the first time in history that China, India and the United States agreed to reduce carbon emissions. As we see in the film, Nasheed played a key role in brokering that decision.
Embraced by critics and audiences alike,  "The Island President" combines stunning cinematography with the haunting music of Radiohead for an unforgettable journey.
"The Island President" screens at the Liberty Theatre tomorrow at 3.45 pm.
Trailer for "The Island President"
"Footnote" is a 2011 Israeli drama film written and directed by Joseph Cedar, starring Shlomo Bar'aba and Lior Ashkenazi. The plot revolves around a power struggle between a father and son who teach at the Talmud department of the Hebrew University of Jerusalem.
The film won the Best Screenplay Award at the 2011 Cannes Film Festival and was Israel's entry for the 84th Academy Awards for Best Foreign Language Film. It lost the prize to the Iranian film A Separation, also screening at BIFF 2012.
Director Joseph Cedar explained why he chose to make a film that focuses on Hebrew University's Talmud department: "It is the smallest department in the university, but it is famous worldwide for its uncompromising methods, and its unforgiving attitude toward the notion of 'mistake.'
"Once I started hearing stories from within this department, about mythological rivalries between scholars, stubbornness on an epic scale, eccentric professors who live with an academic mission that is bigger than life itself, even if its topic is radically esoteric, I fell in love with them all, and they became the centre of this story."
"Footnote" premiered in competition at the 2011 Cannes Film Festival on May 14, winning the Best Screenplay Award.
The Israeli film will be shown at 6.30 pm on Tuesday.
Tickets for all three of Tuesday's international films are available here or at the BIFF 2012 box office at 75 Front Street, courtesy of Freisenbruch Meyer. For more information, visit BIFF's website, call +1 (441) 293-3456 or email info@biff.bm.
Running from March 16 through 22, more than 80 films will screen at BIFF 2012.
Trailer for "Footnote"
Read More About
Category: All, Entertainment, Films/Movies