Bermuda riders are gearing up to compete next Wednesday [Mar.7] in the 2012 FEI World Dressage Challenge. This competition is entering its 32nd year with an estimated 55 countries participating in 2012.
Bermuda is competing in Group X of the FEI World Dressage Challenge; this group comprises Barbados, Trinidad & Tobago, Jamaica and Cayman. Judges Ricardo Rojas from Costa Rica and Mariano Santos from Spain are currently traveling to the competing islands and will make their final stop in Bermuda next week.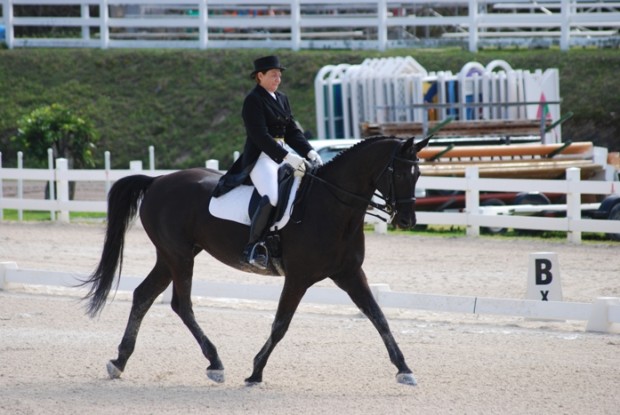 It is anticipated that Bermuda will have a strong group of riders and who are all hoping to repeat winning the Team portion of the competition for a 3rd year in a row. A few of the expected entrants are Dawn Fox and Lancelot competing in the Advanced and Prix St. George Levels, Paula George and Wiriana [pictured above] competing at the Prix St Georges Level and Suzette Sailsman and Wiriana competing at the Advanced Level.
First time riders in the Children's division of the Preliminary Level will be Keira Whited on Itza Miracle and Riley Correia on 24 Carrot. Adult riders at the same Level will be Marvin Ford on Gold River, Jackie Scott on Skipping Stone, Erin Smith on Klearly King.
At the Elementary Level Jackie Scott on Skipping Stone and Rebecca Carne on Limited Edition will be competing. Finally in the Medium Level will be Michael Rodrigues on Southern Eclipse and Abby Bardgett on Simply Ned.
The major objectives of this worldwide Dressage competition are:
to give the less experienced Dressage riders, who under normal circumstances, cannot take part in international Dressage competitions, in the more remote countries of the world, the opportunity to compete internationally without having to leave their own country.
to promote the new generations. Last year, 248 Children from 46 NFs competed in the Challenge.
Internationally experienced FEI Judges will travel to the individual geographical regions of the world to judge this competition and give the riders a clinic to teach them the art of Dressage. Each Group of countries is judged by the same Ground Jury composed of 2 FEI Judges appointed by the FEI.
The 2012 competition has been made possible by the generous support of the Bank of Bermuda Foundation; the competition will start at 1pm at the National Equestrian Center, Vesey Street Devonshire.
Read More About