[Updated with videos] The third and final day of the 2012 Carifta Games saw Bermuda capture two more medals, one of which saw a new Bermuda record set.
During the girls 3000m run Taylor Ashley Bean set a new Bermuda Junior Record at the distance capturing her second medal of the games when she won the silver medal with a time of 10:22.82. Bean is pictured below with her coach and sister — also a top runner — after winning the medal.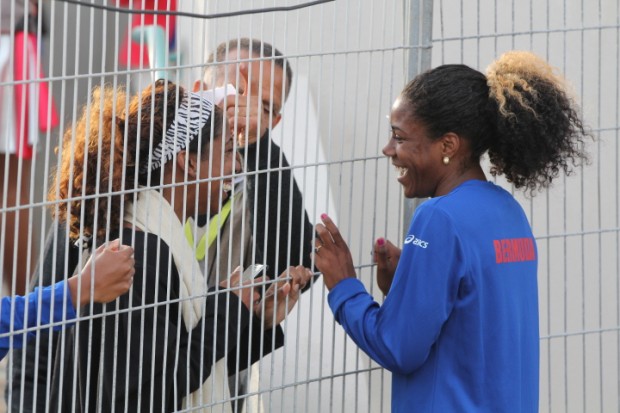 Juma Mouchette added to Bermuda's medal tally, picking up the bronze medal when he finshed third in the Under 20 Boy's 3000m race clocking a time of 16:13.41.
Other Bermuda athletes were in action through the day. During the Under 17 Boys long jump Justin Donawa finished 4th with a top leap of 6.42m, while Ethan Philip finished 9th leaping 5.95m. Naquan Smith finished 14th in the Under 20 boys javelin with a toss of 46.44m.
Taylor Ashley Bean crossing the line to take silver, and the crowd's reaction:
Donovan Livingston finished 6th in the Under 20 Boys high lump with a leap of 1.85m, Chas Smith finished at the same height but was ruled finish in 8th place. Meanwhile, during the Under 20 girls discus Deesa Booth finished 11th with a top toss of 28.14m.
Zakiyyah Showers finished 5th in the girls 3000m run clocking a time of 10:52.13, during the Under 17 boys 200m Jaret Simmons finished 7th with a time of 22.97.
Christian Wright finished 8th in the Under 20 boys triple jump leaping 13.34m and Tyrone Oswald fouled out of the competition. Dage Minors finished 4th in the Under 20 Boys 5000 Meter Run with a time of 16:23.80.
Juma Mouchette is awarded his bronze medal:
Read More About