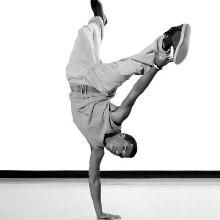 A rising star from Bermuda is being hailed as the new Lord of the Dance at Edge Hill University in Lancashire, England.
Malachi Simmons is now realising his dreams of becoming a top performer after being given a bursary from the National Dance Foundation of Bermuda to study in the UK.
A profile of Mr. Simmons [pictured] posted at the university's website says his scholarship was in recognition of his talent and for being a "shining example of how dance instils confidence, discipline and commitment'."
Mr. Simmons is well known in Bermuda for his acting and dancing ability, as well as starting a hip-hop dance troupe.
Since arriving at the Ormskirk campus the 19-year-old is already making a positive contribution in his new local community by setting up a street dance group and is making the most of the exciting opportunities available through the University's Performing Arts Department.
Malachi Simmons dance concept video
Mr. Simmons, who is in his first year on the BA (Hons) degree in Dance, said: "When I first came to Edge Hill I was doing Dance and Drama but after a few weeks I realised I loved the dance element more and a lecturer said that I was a great dancer so I decided to switch to just Dance instead; and it has been brilliant.
"I'd not done ballet or contemporary dance in Bermuda before but I really enjoy all aspects, especially hip hop and street dance. I've even set up a group with three other students and we've been touring the region. Already they are like my Edge Hill University family because we all share the same drive and passion.
"I get so much support from the tutors, they are brilliant. Students have so many new opportunities to perform; only recently we were given the funding to tour in London, which was a fantastic experience."
Before moving to the UK, Malachi trained with United Dance Productions in Bermuda. He taught hip hop at the school for a year before coming to Edge Hill University.
He said: "Moving to the UK has been a great move for me and when I came to Edge Hill I felt at home straight away because it is such a friendly environment and reminds me of Bermuda because it is also a close-knit community. It has helped me to focus on my talents and has totally changed my career aspirations.
"It's been such an amazing and inspiring experience so far and I've been able to see other people's work which has given me a real flavour of the variety of opportunities out there. I know that my future lies in dance."
Read More About
Category: All, Entertainment, News