Dominique Mayho and Nicole Mitchell are the 2012 Bank of Bermuda Foundation BBA Male and Female Time Trial Champions, after racing took place this past weekend at Southside in wet and windy conditions.
Mayho — who recently won the May 24th Sinclair Packwood Race — clocked a time of 44:58, while Mitchell recorded a time of 42:35. Mark Hatherley finished second in a time of 45:40 and Jonathan Herring finished third clocking 47:01.
L-R: "Male Masters" Winner Darren Glasford and "Male Open" Winner Dominique Mayho: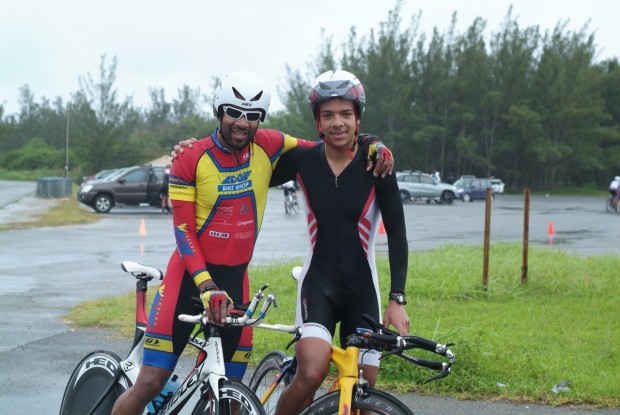 Tokio Re Triathlon Female Champion Kristyn Robinson finished second behind Mitchell with a time of 44:09, with Heather Roque finished third clocking 50.09. 
Darren Glasford raced to victory in the Male Masters Division clocking 46.55, while Kent Richardson finished second in 47.33 and Peter Mills finished third clocking 48.11. Karen Smith won the Female Masters Division with a time of 44.14, with Earlena Ingham finishing second clocking 52.06.
Male Open
44:58.8 Dominique Mayho – Madison
46:40.2 Mark Hatherley – Winners Edge
47:01.7 Jonathan Herring
50:37.4 Richard O'Connell – Tokio
52:00.0 Adam Hopkin
52:18.4 Tim Goodyer – Tokio
54:35.7 Dennis Joell – Crime Stoppers
55:01.1 Dnarte Lima – Crime Stoppers
58:02.4 Kareem Johnson
59:23.9 Che'quan Richardson – Winners Edge
17:43.5 Anthony Bartley – Crime Stoppers
Female Open
42:35.6 Nicole Mitchell – Winners Edge
44:09.4 Kristyn Robinson – Fast Forward Bicycle Works
50:09.0 Heather Roque – Tokio
19:52.4 Zoenique Williams – Crime Stoppers
Male Masters
46:55.4 Darren Glasford – Winners Edge
47:33.5 Kent Richardson – Winners Edge
48:11.6 Peter Mills – Tokio
48:37.6 Glenn Franklin – Winners Edge
49:10.6 Clifford Roberts – Fast Forward Bicycle Works
49:18.9 Mark Wilcox – Tokio
49:49.0 Geoff Smith
51:04.7 Mannard Packwood – Tokio
51:14.1 Travis Cooper
52:30.4 Peter Dunne
54:13.6 Brian MacNab – Crime Stoppers
57:55.3 Terry Thomas – Crime Stoppers
58:29.1 Chris Smith – Crime Stoppers
58:42.8 Knut Heinz
19:29.2 Mark Lombardi – Tokio
Female Masters
44:14.1 Karen Smith – Winners Edge
52:06.2 Earlena Ingham – Fast Forward Bicycle Works
Female Junior
39:44.9 Gabriella Arnold – Winners Edge
41:01.3 Kamryn Minors – Tokio
43:07.3 Victoria Davis – Winners Edge
Male Junior
32:07.8 Daniel Oatley – Fast Forward Bicycle Works
32:59.7 Justin Ferreira – Winners Edge
33:11.1 Mark Godfrey – Winners Edge
33:45.5 Vashon Cann – Madison
34:24.8 Deshi Smith – Tokio
35:23.2 Daelan Richardson – Tokio
41:28.2 Mustafa Ingham – Crime Stoppers
11:38.5 Caleb Simmons – Tokio
34:28.3 Nate Hartwig – Winners Edge
Female Junior 13-14
11:15.3 Tristan Narraway – Tokio
Male Junior 13-14
30:18.0 Christian Oatley – Fast Forward Bicycle Works
31:40.5 Shomari Steede – Crime Stoppers
Female Junior 11-12
20:41.7 Alyssa Rowse – Fast Forward Bicycle Works
Male Junior 11-12
20:23.0 Matthew Oliveira – Winners Edge
21:58.8 Alex Bordage – Winners Edge
22:24.6 Malik Joell – Crime Stoppers
26:17.7 Tao Lambert – Crime Stoppers
27:04.2 Benjamin Edwards – Crime Stoppers
27:05.8 Christian Roque – Fast Forward Bicycle Works
- Photo courtesy of John Narraway
Read More About