Earlier this afternoon [June 16], the Bermuda team arrived at the airport after competing in the 2012 Special Olympics Delaware Summer Games. The students were waving Bermuda flags as they exited the airport receiving loud cheers from their proud parents.
Bermuda was represented by students from the Cedarbridge Academy Functional Skills Class, with the team combining to win a total of 35 medals.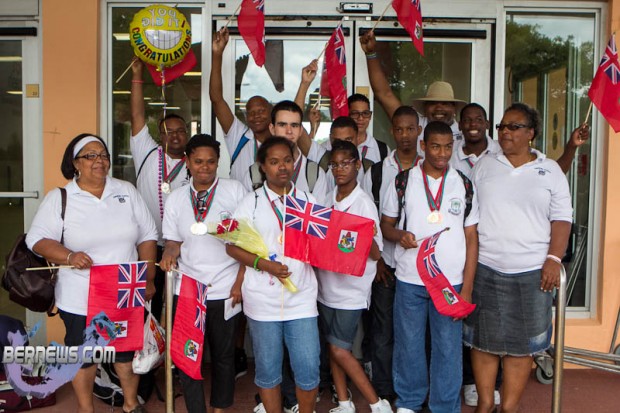 The team consisted of Fabio Defrias, Shakino Cann, Justin Smith, Delton Woods, Kacy Darrell, Kemari Dill, Bridgette Marshall, Mahalia Maynard, Christopher Talbot, Shaqune Whitehurst, and Del-Che Landy.
The team was accompanied by P.E. Instructor Ricky Watts, as well as CedarBridge Academy Functional Skills teachers Ralda Jones and Alicia Zuill.
The team claimed 35 medals in total — 23 Gold, 5 Silver and 7 Bronze — as well as three 4th place ribbons. The students won medals in disciplines including the 25m walk, 60m walk, 100m walk, 200m walk, 25m dash, 50m dash, 100m dash, 200m run, 400m run, 800m run, softball throw, shot putt and the 4x100m relay.
The Special Olympics Delaware Summer Games offer athletes with intellectual disabilities the chance to compete in six different sports: aquatics, bocce, powerlifting, softball, tennis and track & field.
Coach Watts introduced himself as "the coach of some of the best young people in Bermuda," and said all the students did an outstanding job. He said you could see the pride in the student's faces as they took the podium to receive their medals.
CedarBridge Academy Functional Skills teachers Alicia Zuill commended all the students behaviour, saying said when they went out on outings, people asked about the students as they were so well behaved. "These students work with each other, help each other and compliment each other," Ms Zuill said.
She told a story about being out during the trip and one of the students suffering a seizure. The other students immediately sprang to help, and their behaviour impressed someone watching so much, he was inspired to make a donation to the Special Olympics programme.
Ms Zuill also spoke of her wish to have an active Special Olympic movement in Bermuda. "It's not just the other athletes," said Ms Zuill. "Our athletes make a difference too."
Read More About