[Updated] Debate continues over dental insurance coverage for Government employees, with the OBA saying it appears coverage was suspended because the Government has failed to pay the premium, while the Government insists that coverage was not suspended.
The One Bermuda Alliance provided documents that appear to indicate that Government workers insurance coverage is "inactive", with a note that the "customer must contact their employer." The documents have the patient's identity withheld, and are dated July 9th showing dozens of accounts listed as "inactive".
Click to enlarge: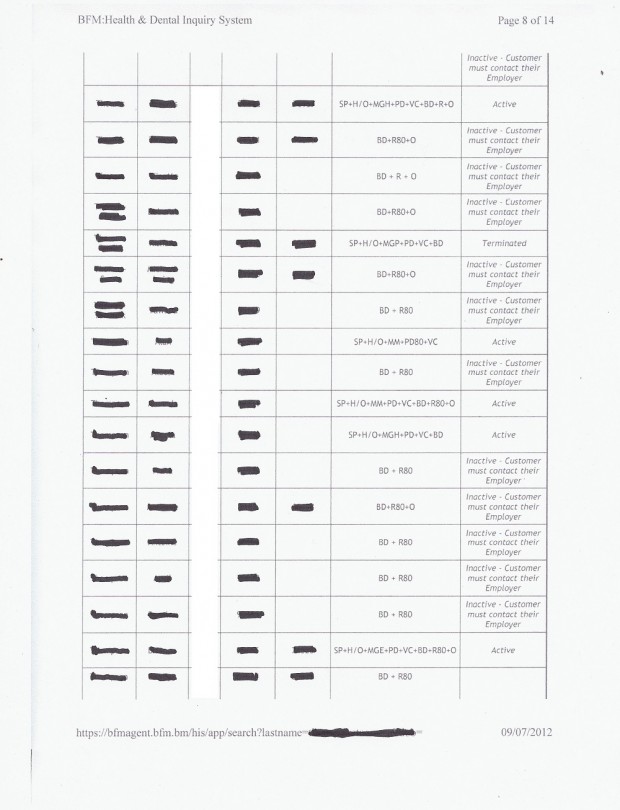 Last night Shadow Minister of Health Michael Dunkley said, "I have been informed today that Government is now taking steps to rectify this matter and this is good to learn.
"Government should also explain how this "Inactive" status came about in the first place and what steps they are taking to make sure it does not happen again."
Yesterday the Ministry of Finance released a statement saying that government employees insurance coverage has not been suspended nor cancelled," and called any commentary to the contrary "regrettable and baseless".
Update 12pm: John Wight, President & CEO of BF&M, made the following announcement this morning: "BF&M considers matters between our company and our clients to be confidential, and thus it is the company's standard policy not to comment through the media on such matters.
"Having spoken with our client regarding the disinformation in the media, we would like to put to rest any concerns that Government Employees have about their dental insurance coverage. GEHI premiums are paid up to date, and all Government employees have been, and will continue to be, fully covered for dental treatment provided under the policy."
Related Posts