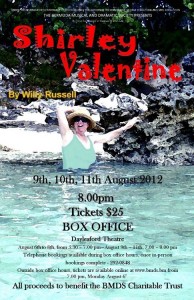 A one-woman play about a middle-aged housewife whose Greek holiday becomes a joyously transformative journey of self- discovery is being staged as a fundraiser to help change the lives of young Bermudian performing arts students.
Acclaimed Bermuda actress Carol Birch will reprise what has become her signature role as the title character in playwright Willy Russell's "Shirley Valentine" at the Bermuda Musical & Dramatic Society's Daylesford Theatre for a limited three-night run from Thursday, August 9 through Saturday, August 11.
"The character Shirley Valentine really resonates with me…she is the quintessential child trapped in an adult body – weighed down with responsibility and what we have to do, instead of what we want to do," Ms Birch told Bernews. "We all fall into the same trap and lose ourselves somewhere along the way.
"Her final triumph comes when she breaks free of her bonds and releases her joy of life that has been suppressed for most of her adult life. Audiences will be cheering her along and taking inspiration from her clear message that you're never too old to rekindle the wonder of that inner child you thought you had left far behind."
All proceeds from the comedy-drama, which enjoyed long runs in London's West End and on Broadway and was made into an Oscar-nominated movie in 1989, will benefit the BMDS Charitable Trust.
"This is the third time I have put Shirley on her feet and it couldn't be for a more worthy cause – the BMDS Charitable Trust is near and dear to my heart," said Ms Birch.
The BMDS Charitable Trust was established to honour the memory of young Bermuda actress Kate Huntington who died in a motorcycle accident while travelling through India in August, 2000. She was just 28 year olds.
"Kate Huntington, a talented young actress, spent many summers as one of my drama camp students as she was growing up," said Birch. "She blossomed into a beautiful young woman whose spirit was never suppressed – she had a zest for life that reminds me so much of how Shirley Valentine must have been in her younger years.
"Kate was in India following her sense of adventure when tragedy struck….but her sense of adventure still lives on in the Trust that was formed after her death. And so she lives on by giving opportunity to many young Bermudians to pursue their dreams in the arts. The BMDS Charitable Trust gives out annual bursaries to students in the performing arts and has donated close to $200,000 over the past 10 years."
Trailer for the 1989 movie version of the show:

Tickets for "Shirley Valentine" are $25 and are available at the Daylesford Theatre box office located at the corner of Washington and Dundonald Streets on August 7 and 8 from 5.30-7.00 p.m. and from 7-8 p.m. on the three nights of the run, August 9-11.
Telephone bookings are available during box office hours, once in-person bookings complete by calling 292-0848. Online bookings are available from 7.00 p.m. outside of box office hours. Showtime is 8 pm.
Related Posts
Category: All, Entertainment