[Updated with photos] The annual Non-Mariners Race is getting underway this afternoon [Aug 5] in Sandys, and for those that cannot make it we are carrying a live video feed for the entire afternoon.
The 'Non-Activities' include the Non-Colors Raising, Non-Penguins Fly Past, Non-Noodle Race, Non-Memorial to our Mascot, Non-Calypso Pipe Band, Non-Craft Race, Non-Trophy & Non-Prizegiving, all starting at 11:58am, hosted by the Sandys Boat Club.
3 hour webcast replay below, drag bottom bar to fast forward:
The event started decades ago when a group of drinking buddies debated the flotation properties of baby carriages, and a few days later ended up attempting to sail a baby carriage from Albuoy's Point to Whites Island. This unsuccessful boating attempt was the start of the Non-Mariners Race, which is now celebrating its 40th anniversary.
Update 12.47pm: The stream is off and will be so for 3/4 minutes. We apologize for this, however are re-hooking it up again on a new video.
Update 1.42pm: A few photos are below, many more will be added later today. One of the 'non-boats' played on the ongoing KFC/BIU dispute. It was shaped like a KFC bucket with what appeared to be a photo of BIU President Chris Furbert on the side and said: "United We Float, In Pieces, Divided We Sink"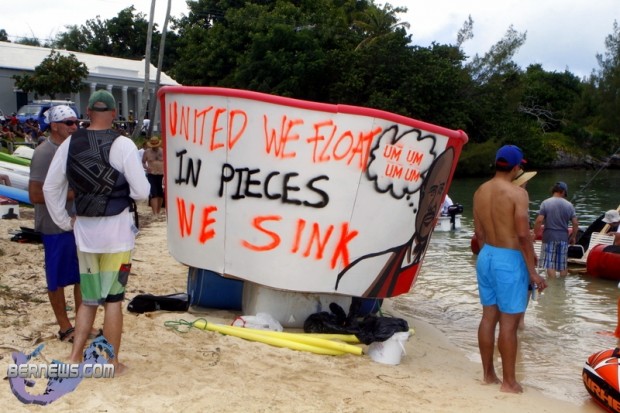 Update: Live stream over, replay available above. You can view 60 more photos of Non-Mariners here.
Click to enlarge photos:
Related Posts