David Thomas appeared in Magistrates Court this morning [Aug 6] facing charges in connection with the death of American tourist Dr Alexander Doty.
Mr Thomas, whose date of birth was given as 30 Dec. 1988, appeared before Magistrate Tyrone Chin and was charged with causing the death of Dr Doty by driving a motorcycle whilst his ability to drive was impaired by alcohol.
Because he can only be tried in Supreme Court, Mr Thomas was not required to enter a plea. His lawyer Charles Richardson argued for a lower bail after the prosecutor suggested bail of $50,000. Magistrate Chin granted bail of $20,000 with two like sureties.
Mr Thomas must re-appear for mention later this month August. On hearing the first charge read out, a member of the public uttered a sharp cry. After proceedings had finished, Mr Thomas was lead out by Police. He remained silent throughout the appearance.
58-year-old Dr. Alexander Doty, a college professor from Indiana, died yesterday after sustaining serious injury when he was struck by a motorcycle while walking on Pitts Bay Road on Wednesday August 1st.
Update 2.46pm: Mr Thomas made bail, and is pictured below leaving the Court building this afternoon.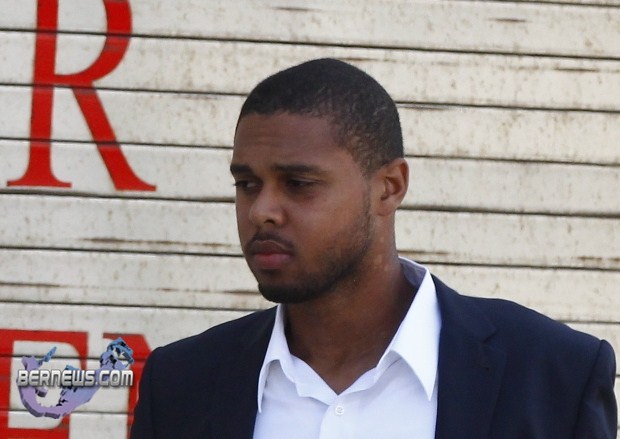 Related Posts
Category: All, Court Reports, Crime, News