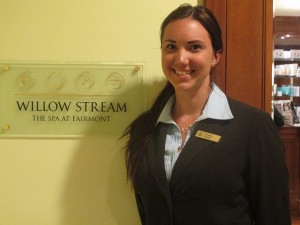 The Fairmont Southampton today announced the promotion of Christina Dodwell to the post of Spa Reservation, Sales and Revenue Manager at The Willow Stream Spa.
Spa Director for The Willow Stream Spa Paul Schmidt said, "Ms. Dodwell's enthusiasm and dedication has been an outstanding asset to the team here at The Willow Stream Spa. We are honored to have her fill this important role as she continues to develop her skills and experience to the benefit of our guests here at The Fairmont Southampton"
Christina Dodwell joined The Fairmont Southampton in 2011 as a member of the brand's Leadership Development Program (LDP), an 18 month program designed to develop leadership skills and a developmental career path for individuals who graduate from the program to become Executive Committee members within five years and General Managers within ten years.
In her new role as Spa Reservation, Sales and Revenue Manager, Ms. Dodwell will be responsible for the team ensuring excellent Willow Stream guest service from booking through check-out as well as group coordination and sales.
Christina Dodwell holds a degree in International Business from the College of Charleston in South Carolina.
Read More About