Malisa Swan has launched 'Cupcakes With A Cause', which gives locals the opportunity to enjoy specialty cupcakes while also donating to a good cause.
Ms Swan said: "Get a double dose of enjoyment out of Mother's Treats Gourmet Cupcakes – cupcakes with a cause mouth watering gems. Not only will you savor the taste of them, you will also take heart knowing that proceeds are being donated to New Beginnings $1 Million Campaign.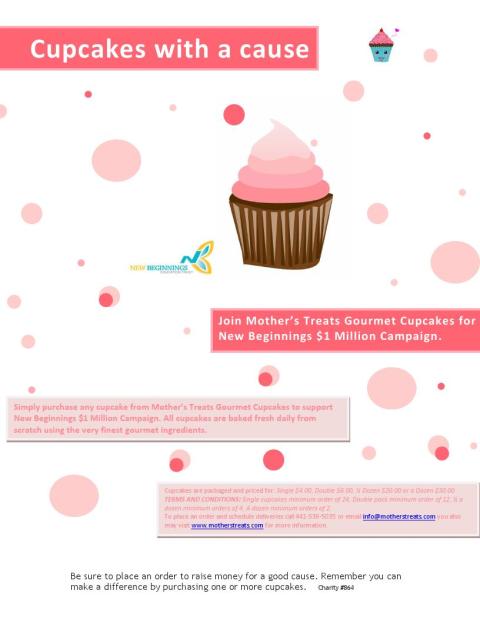 "All young people deserve opportunities. But many children entering adulthood lack the resources, the nuturing and the access to become contributing members in our community. So we at Mother's Treats Gourmet Cupcakes decided to help New Beginnings $1 Million Campaign reach their goal by starting Cupcakes with a Cause.
"We are asking for businesses, schools, the community and individuals across the Island to call Mother's Treats Gourmet Cupcakes to place an order to raise money for a good cause. By purchasing one or more cupcakes you can make a difference.
"Cupcakes are available in Mini and Standard size. Here are a few top sellers off our menu: Red Velvet Retreat, Classic Vanilla, Casual Chocolate, Cookies & Cream and Vanilla Funfetti," said Ms Swan.
The New Beginnings Education Trust was created to support Bermuda's 'at risk' youth in achieving the new beginning they have visioned for themselves as they re-engage in educational, personal and professional development opportunities.
You can visit www.motherstreats.com for more information.
Read More About
Category: All, Entertainment