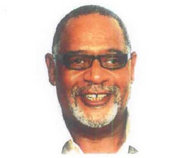 The battle in Constituency #21 Pembroke South East continues to heat up, with yet another Independent candidate announcing his intentions to run in the area, with Winfield Simpson now entering the fray.
The race so far includes the OBA's Jeff Baron and the PLP's Rolfe Commissiong — who was selected over incumbent Ashfield Devent by the PLP branch. Mr Devent won 67.61% of the vote vs the UBP's Tillman Darrell [526-252] in the 2007 General Election.
Mr Simpson is one of a few potential Independent candidates said to be considering a challenge to the two major parties. Mr Simpson said that some of the people who lived in the area asked him to run, and that's what persuaded him to throw his hat in the ring.
Andre Curtis — who was recently released from prison — is said to be considering running in the area, Tillman Darrell is also reported to be running in the area, and incumbent Ashfield Devent has said he is considering running as an Independent.
Mr Simpson has been out canvassing, and the letter he is handing out is below [PDF here]:
Related Posts