The Bermuda Arts Centre at Dockyard today announced the opening last evening of "THE BIG ART SHOW" which features large original artwork by Bermuda's best-known artists.
Put on in association with Washington Properties, "THE BIG ART SHOW" uses available office space in Washington House, located adjacent to the Washington Mall and enables multiple pieces of large art to be easily displayed and viewed.

Heidi Cowen of the Art Centre said: "We are very pleased to have this opportunity to display over 50 larger works of art. Our gallery in the West End is just not big enough to do this and allow works to be viewed properly so we are delighted our members have this chance. We appreciate partnering with Washington Properties on this initiative."
Added Paul Slaughter of Washington Properties: "Our company is pleased to have worked with the Art Centre at Dockyard to bring this show to the Washington House. We are committed to doing as much as we can to support the arts on the Island. "THE BIG ART SHOW" also reinforces our commitment to make the Washington Mall a vibrant and exciting destination, truly the Heart of Hamilton."
All artwork is a minimum of 24" x 24" and includes submissions by Samantha Lee Botelho , Carlita Burgess , Geralyn Counsell , Heidi Cowen Annette Dickinson, Rhona Emmerson, Lydia Franks, Christopher Grimes, Rebecca Hansen, Mark Henderson, Monica Jones, Andrea Linke, Christopher Marson, Susan Pearson, Kimmisha Perinchief, Grahame Rendell, Michele Smith, Karl Sternath, Jackie Stevenson, Katherine Summerville, and Sharon Wilson.
Anyone who wishes to view the "THE BIG ART SHOW" can do so by appointment and by calling The Bermuda Art Centre at 234 2809 or email: artcentre@logic.bm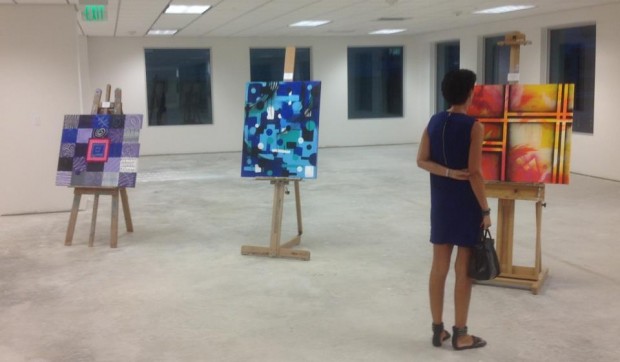 In addition Washington Properties announced the winner of their Public Art Project. Washington Properties readily embraced a requirement that all new buildings in Hamilton over 50,000 square feet include an element of public art for their new building on Church Street. Five artists were then invited to submit designs for three grates to go around the bottom of the palms planted outside the new building entrance.
Said Mr. Slaughter: "We were very pleased with all the submissions by the artists and I am pleased to announce that the winner was Graham Foster. His work, titled "'Bermuda Maritime Grates" .
It comprises of three grates called 'The Regatta', 'Starlight Sharks' and 'Night Net fishing', These grates have now been installed and we invite the public to view his marvelous creativity at the Church Street, entrance to the Washington Mall.
In addition Mr. Slaughter, on behalf of Washington Properties thanked, David Mitchell, Patrick Cooper, Kendal Henry and Steve Wagner who were on the selection committee and the Corporation of Hamilton for their help with the installation of the grates. He also recognized the kind support of Mr. Mitchell in hanging the "THE BIG ART SHOW" and setting up the display of the the public art selection process with the five submissions.
Read More About
Category: All, Entertainment