Business Bermuda today released two major new studies including its 2012 Economic Impact Study and its Annual Top-of-Mind Awareness Survey.
The Bermuda Economic Impact Study focused on the role of Bermuda in the world economy between 2004 and 2011 highlighting the dynamic nature of Bermuda's international business economy and its relationship with key global economic powers including the United States, Europe and Asia.
This is the fourth annual Business Bermuda sponsored economic impact study, but the first study that measures the economic significance of Bermuda's economic impact around the world and is made even more significant by highlighting Bermuda's ability to adapt under the ongoing economic crisis.
Business Bermuda also released highlights of its Annual Top-of-Mind Awareness Study for 2012, which benchmarks the jurisdiction's progress in building awareness and understanding of its international business offerings and provides guidance on marketing and branding efforts.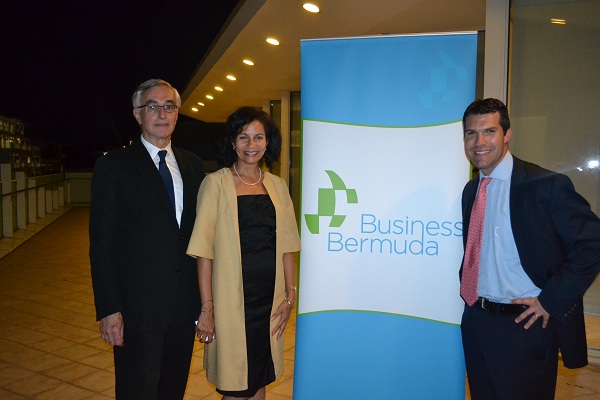 The 2012 Bermuda Economic Impact Study is distinct from the prior economic impact studies, which primarily focused on Bermuda's economic relationship with the United States and offered only brief insights on Europe and Asia.
The 2012 study takes a close look at Bermuda's long-term trade and investment relations with ten of its biggest economic partners and provides detailed statistical analysis of Bermuda's economic role with the United States, Europe and Asia, including the financial centers in China, the United Kingdom, Switzerland, and Singapore.The study also provides insights into the growing role that Bermuda provides for Ireland, the Netherlands, Germany, France, and Hong Kong.
Cheryl Packwood, Business Bermuda's CEO said, "Bermuda's reputation for economic stability and its deeply experienced financial sector is key to the size of its economic profile in the world economy. Particularly in times of economic challenges and financial volatility, Bermuda provides the world economy with an experienced investment and business environment that assures security, stability and cohesiveness."
The study reveals that Bermuda ranks as one of the largest economic actors in the world economy. The findings include:
In 2010, its two-way trade with the rest of the world was $80 billion.
In addition, Bermuda's multinationals generated an additional $100 billion of direct sales in these ten large markets through its subsidiaries in the manufacturing and financial services sectors.
In 2010, Bermuda's holding companies provided $939 billion of inward and outward direct investment for the world economy. Bermuda's businesses provided 600,000 jobs for the world economy.
Bermuda's largest economic partner remains the USA and it is a powerful and important relationship. Key findings include:
Bermuda companies have a job-creating, direct investment position of $55 billion in the United States – more than the entire Caribbean, Singapore and Hong Kong taken altogether.
Bermuda is the 8th largest investor in the United States. Even as other leading US economic partners pulled back from investing in the United States, Bermuda expanded its role in America.
Among other economic roles, the study shows that Bermuda provided financial stability and additional liquidity during the recent economic crisis.
Overall Bermuda's bilateral business relations created 300,000 jobs in the United States.
Asia Is a Large and Growing Partner with Bermuda. While Bermuda's economic handprint is largest in the United States, its business relations are growing fastest with Asia. The following highlights this relationship:
Trade with China Hong Kong and Singapore grew 200% between 2004 and 2011.
Bermuda holds $20 billion of investment from China and Singapore – up from $1 billion in 2000.
By the numbers, Singapore is Bermuda's leading Asian economic partner driven by shipping and insurance sectors. Hong Kong SAR also stands out as it imports $1.4 billion a year in services from Bermuda.
Bermuda – A Powerful Economic Force in Europe. Bermuda is a powerful and vital economic partner with Europe as illustrated by the following findings:
Bermuda is one of the top twenty economic partners with the European Union including $25 billion in two-way trade principally from insurance, financial and business services.
Switzerland and the United Kingdom stand out as strong economic partners although their position with Bermuda decreased during the economic crisis.
Ireland and the Netherlands share a special role with Bermuda in addition to the large relationship they share in trade in insurance services. These long time "Holding Company" jurisdictions domicile US and EU multinational investment positions with Bermuda totaling $430 billion.
Bermuda is Ireland's number one investment partner in the world.
As a result Bermuda exports $15 billion in business services to these two countries (Ireland and the Netherlands.)
Commenting on the study, Dr. Charles Ludolph, a U.S.-based economist who conducted the study on Business Bermuda's behalf said, "The study captures the four economic roles that Bermuda plays in the world economy. Bermuda's financial sector and regulatory governance provides financial stability in a time of volatile global capital flows.
:Second, Bermuda is stepping up from its regional strength in providing a needed capital market for the United States in insurance and reinsurance and expanding into Asia and other markets. Bermuda is finding a new role as an investment domicile for Asia. And perhaps most important, Bermuda continues to support U.S. international business competitiveness with company law and regulation that meets the security needs of business but is responsive enough to lower costs in a tough international competitive environment."
A complete copy of the Bermuda 2012 Economic Impact Study is available at www.businessbermuda.org or upon request from Business Bermuda.
Business Bermuda's Annual Top-of-Mind Awareness Study, which is used to benchmark progress and provide guidance on competitive positioning and marketing efforts showed that awareness and understanding of Bermuda in international business is high overall in key markets around the world. Sloane & Company, in partnership with regional firms, conducted 250 telephone interviews among a representative sample of Bermuda's traditional base of clients in North America, London, Europe, Asia and the Gulf including lawyers, accountants, financial services and re/insurance executives between 1 August and 30 August 2012.
Those findings include:
Traditional bases of business in N. America and London/EU demonstrate significant awareness/familiarity with Bermuda – over 90 % awareness levels.
Bermuda faces challenge in reinvigorating the discussion about its international business offerings as familiarity breeds complacency – reinvigorating discussion is important – better products, service, price, efficiency and ease-of-use.
Efforts by the Government of Bermuda, Business Bermuda and the private sector to enter new markets in Asia and the Gulf are working. Respondents to the survey in these regions are becoming increasingly familiar with Bermuda. Since the 2011 study, there was a 10 percent increase in overall awareness in Asia to more than 95 percent and an 18 percent increase to 78 percent in the number of people who indicated they were very familiar with Bermuda in the Gulf.
Not surprisingly given Bermuda's long history of excellence and innovation in the insurance / reinsurance market, the executives around the world in this market sector continue to universally know Bermuda, which is remarkable in the context of any survey.
Lawyers and accountants in most markets are aware of Bermuda while traditional financial services executives– funds, wealth management – awareness of Bermuda remained largely the same.
Based on anecdotal discussions, Bermuda is making real strides in Islamic finance with respondents in the Gulf region highlighting several transactions where Bermuda played an integral role.
Bermuda's strengths remain fairly consistent in major markets including sophistication, credibility of service providers, market reputation.
One issue that emerged is that Bermuda's sophistication and reputation for substance are "double edged" swords. Respondents highlighted that Bermuda is great for complicated international business transactions and the most-established hedge funds as they enter the reinsurance market. However, when lawyers are looking at jurisdictions for the most basic, small and emerging hedge funds other jurisdictions appear to have a simpler and more efficient approach.
In addition, the lingering effects of the economic crisis in Europe and North America in particular remain a concern for the financial community and have caused investors and others to be more cautious. While not as significant as previous years, there are some concerns about the impact on tax and regulatory environments impacting offshore based on the outcome of the U.S. Presidential election in 2012.
In the Gulf and Asia, respondents highlighted that they are focused on the proximity of jurisdictions and the costs of doing business.
Commenting on the study, Ms. Packwood said, "This research is very helpful in guiding our marketing efforts and providing a benchmark for our progress. The news out of Asia and the Gulf is heartening and confirms that we are investing time and energy and that is making a difference. We are also pleased with the research out of the U.S., U.K. and Europe as it shows we have not lost any ground in highly competitive markets and it gives us some clear indications on the issues we need to address."
Ms. Packwood continued: "We have participated in wealth creation in other parts of the world at an exponential rate. We now need to take these two reports and use the information to our benefit, creating wealth and employment at home."
Business Bermuda will make available the Top-of-Mind Awareness Study to its members upon request based on the nature of the information and its use in marketing and competitive positioning of the jurisdiction.
Related Posts