[Written by Laurie Fullerton] For Renaissance Re Junior Gold Cup sailor Douglas Elmes of Ireland, it all comes down to the last race as he is leading the regatta with 35 points over Tomas di Luciano of Argentina with 41 points.
This is the first time Ireland has been to the Renaissance Re Junior Gold Cup and both Elmes and di Luciano have emerged as two young sailors with different styles that make them both exciting competitors to watch.
Elmes is the thoughtful strategist and di Luciano sails with guts and physical skill. This meant their final race of the day Friday was more of a match race between the two as their extensive lead over the rest of the fleet in the last race had the two of them fighting their way to the finish and learning new techniques at the same time.
Chase Cooper is the top placing local sailor in 9th place, photo by Charles Anderson: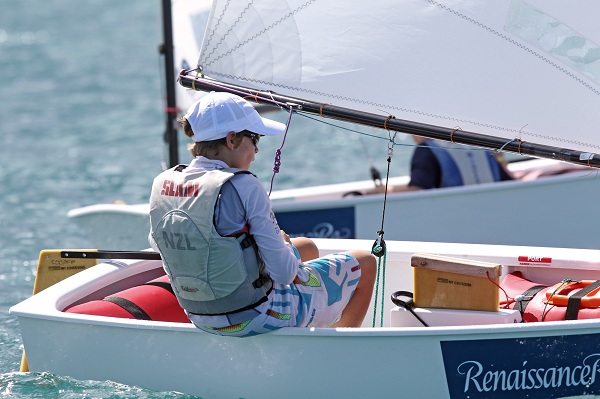 Elmes was leading the final race when he spotted di Luciano coming up the course. Elmes tried to cover, but he was too late as the Argentinian forced him to tack and took the lead and beat him by a boat length for the win. For both sailors, it was a decisive moment where their strengths as sailors gave them both a chance to experience the intensity and strategy needed in a close match.
"I let him get out of my cover and wasn't aggressive enough and he got lifted and it was a good move," said Elmes. For his opponent Tomas, it was a great experience to race at that level against Elmes. "On the water we have to sacrifice our friendship," he said.
"But, if I was ever to pick a crewmate in a race it would be Douglas. He is a very good sailor, and always plays fair. We had a good time match racing each other to the finish although I was nervous to do it at first."
Raising the game is in some respects the point of inviting emerging talent to the Renaissance Re Junior Gold Cup. Tomorrow the fleet faces off in front of a spectator crowd and in view of professional Gold Cup sailors not much older than they are now.
"This is the first time Ireland has been to this event and it is really great to be here," Elmes said. "My parents are here, too, so it will be really exciting." Added Tomas, "I am really nervous about tomorrow but I think it is going to be good."
Highlights of Friday's racing courtesy of Chris Love Productions:
Two Bermuda sailors are now in the top ten spots after three days with Chase Cooper in 9th place and Ceci Wollmann in 10th. Cooper has sailed consistently well today and throughout the regatta although he said that "it was really fluky wind for me and although it started off well, the sailing was tough today."
Wollmann had a disappointing day that started off with a first place finish, but she had an OCS on her second race which knocked her score down.
But, both Wollmann, Cooper and sailors like Campbell Patton, Mike Wollmann and Ben Smith are closing the gap on the international champions and have shown how their experience here this week advances their level of sailing.
"It was a tough day for all the sailors and a bit of the luck of the Irish in the mix," added Royal Bermuda Yacht Club coach Tom Herbert-Evans who is from Wales.
"Today was all about minimizing the risks and yet the two lead sailors in the last race were going after first place. It was well done. There is a lot of great sailing going on in Ireland right now and for me it is good to see a fellow Celt doing so well."
And Bermuda's sailing heritage was present today as well with nine-year old Jordan "Jordy" Etemadi participating in his first Renaissance Re Junior Gold Cup. Etemadi's grandfather was Bermuda sailing legend Jordy Walker and his uncle is Blythe Walker who raced in this week's Argo Group Gold Cup.
"On the first day out here this week I got pretty beat up in the strong winds and seas but I stayed in the races and didn't quit," Etemadi said. "After three days, I have learned some of the techniques like focusing on sailing fast and how you have to get a clean start."
Etemadi's sail number on his Optimist is 1939, the year his grandfather Jordy was born. "My grandfather had a lot to do with modernizing the race that is the Gold Cup today. I have seen it every year since I was about two years old. I don't remember it back then but I was told that I was there."
The 11th and final race for the Renaissance Re Junior Gold Cup takes place tomorrow on Hamilton harbor just before the Argo Group Gold Cup finals.
Read More About