Kristy "Miss Thang" Burgess and charity group, The Phenomenal Women's Association are working to raise donations and gift vouchers to assist the islands seniors during the upcoming holiday season.
A spokesperson from the group said, "Our seniors are in tremendous need and more so this year. Many seniors still live on their own whilst most times their pension check does not cover the basic essentials like "food, water, electricity, etc."
"Many seniors have less than a few hundred dollars left over which is supposed to last them until the next pay period. Family members play a vital role but with the loss of jobs and redundancy rising, many family members are unable to assist their parents/grandparents which has caused tension and resentment amongst the siblings.
"Amongst this growing division, we still have many of our seniors who live alone and unfortunately do not have any surviving family members. Miss Thang & the Phenomenal Women's Association are giving back to those who have tirelessly paved the way by simply saying "We Love You" this Christmas and we haven't forgotten you.
"The Phenomenal Women are looking to bless at least many seniors as possible which will continue through the New Year. Through our research we have found that while many may survive the Christmas Holiday in the New Year, unfortunately they go without.
"We are asking our community to open their hearts and take a moment to donate to this worthy cause. All monetary donations can be donated to our HSBC charity account at 010-758381-012 or checks can be mailed to P.O. Box HM 2061 Hamilton HM HX."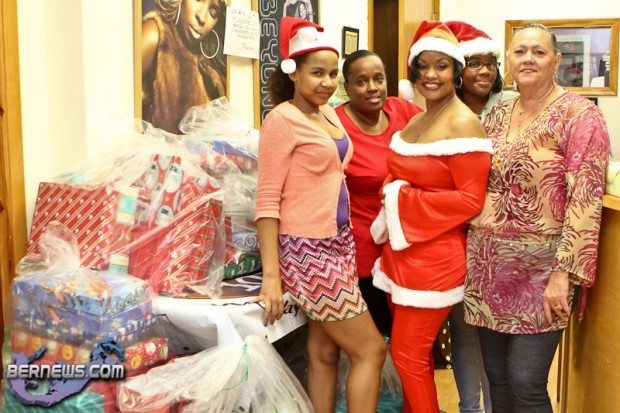 "In addition, we are also requesting donation of gift vouchers from, "Bermuda Electric Light Company, Telephone Company, Bermuda Gas & Utility, the various pharmacies and various grocery stores "which can be mailed to P. O. Box HM 2061, Hamilton, HM HX."
Miss Burgess said, "2012 has been challenging for most of us and this year we decided to do something special for our seniors. I admire elderly people, I often think of their struggle and what they had to endure to make sure my generation and others that came before me didn't have to endure their pain.
"For that alone I am thankful and this year we want to show them that they are still loved and not forgotten". As you know the Phenomenal Women's and I have for the past 7 years have given back to the community during Christmas by way of the Miss Thang's Christmas Wish List where by families and children were blessed.
"This year God has continually impressed upon me that my focus be shifted to assist our seniors. The Phenomenal Women's Association has been in existence since 2007. Our philosophy comes from Sir Winston Churchill, "We make a living by what we get but we make a life by what we give.
"Contact info for the charity is phenomenal-lady@hotmail.com or contact Denise Wilson Adams our Vice President for additional information at phenomenal-denise@hotmail.com."
Read More About
Category: All