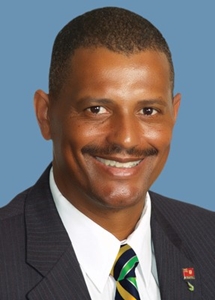 "With the general election in full gear there is a need for me to call for greater discretion by political entities – in this instance the PLP and OBA campaign teams – to resist the temptation to politicise government property and by extension place government workers and their clients in an untenable position," said Independent MP Kim Swan.
Mr Swan continued: "In the absence of sufficient regulations and needed code of conduct governing politics outside of election day, it is important to point out a few do and don't scenarios for the protection of government services, the staff and their clients.
"In recent weeks we have seen the OBA correctly criticised by the PLP for placing posters in government bus stops but on the flip side we have the PLP launching a political campaign on the grounds of a government residential care seniors facility [Sylvia Richardson in St. George's] and using public schools for political rallies.
"Additionally, there are several residential care facilities, hospitals and government funded treatment facilities – Sylvia Richardson, Lefroy House, KEMH, Gulfstream, MAWI and others – which should not be used as political instruments and access should be invited to all political candidates irrespective of political affiliation.
"While there are offenses listed in the Parliamentary Election Act 1978 to cover: Undue influence; Bribery; Secrecy during and after poll; Misconduct at parliamentary election; Prohibition of offensive weapons or propaganda apparatus on polling day.
"These offenses relate specifically to election day and save and except for broadcast regulation, there is a void of rules and regulations governing political behaviour in the lead up to an election.
"When it comes to the lead up to general elections in Bermuda, especially during the writ period, there are areas that need clear rules, regulations and modernization such as:  Code of Conduct for parliamentarians and approved candidates; Campaign Finance Regulations; Rules for the establishment, operation and dissolution of political parties; Annual publication of financial statements by political parties consolidated with their respective branches.
"Modernising the rules governing politics and its participants is necessary and long overdue, but in the absence of these rules we ask all those participating in this election to act responsibly," concluded Mr Swan.
Read More About