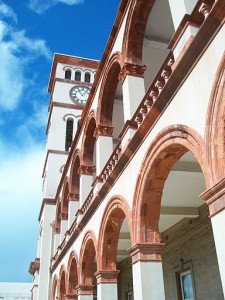 Following the One Bermuda Alliance's victory at the polls earlier this week, the Cabinet appointments are expected to be announced soon by the new Premier.
Prior to the election, the OBA Shadow Cabinet appointments were: Craig Cannonier – National Security, Bob Richards – Finance, Economy, Trade & Industry, Dr. Grant Gibbons – Education, Trevor Moniz – Attorney General & Justice, Shawn Crockwell – Business Development & Tourism, Pat Gordon-Pamplin – Transportation, Mark Pettingill – Public Works, Cole Simons – Government Estates & Information, and Michael Dunkley – Health.
All the other elected OBA MPs [Kenneth Bascome, Nandi Davis, Suzann Roberts-Holshouser, Sylvan Richards, Glen Smith, Jeanne Atherden, Susan Jackson, R Wayne Scott, Jeff Sousa, Leah Scott] are also eligible to be placed in Cabinet.
In forming their first Cabinet, MPs may be placed in different positions than they held in the Shadow Cabinet, newly elected MPs may be brought into Cabinet, and Premier Cannonier could end up completely rearranging the portfolios. When the PLP held the Government there were twelve Cabinet Ministers, and the OBA can maintain that number, or can increase or decrease it.
The OBA can also select a Cabinet Minister from the Senate, with present OBA Senator Michael Fahy having held the shadow portfolio of Environment, Planning & Housing.
New OBA Senators are also expected to be appointed; as the Opposition party they could appoint three Senators, and now as the ruling party they can appoint five. Of the three Senators they had as the Opposition, they lost one to the House with Michael Dunkley winning C#10, so at least three new OBA Senators will be appointed.
The PLP were able to appoint five Senators as the ruling party, which will now decrease to three. Two of the five PLP Senators [David Burt & Kim Wilson] won seats in the election, leaving Jonathan Smith, Diallo Rabain and Vince Ingham sitting as Opposition Senators.
Premier Cannonier has stated that he intends to keep a promise made during the campaign to invite a PLP MP to join Cabinet, and said the person has not been selected as of yet.
If this occurs, the PLP MPs to choose from are: Lovitta Foggo, Derrick Burgess, Wayne Furbert, Glenn Blakeney, Walter Roban, Michael Weeks, Walton Brown, David Burt, Rolfe Commissiong, Lawrence Scott, Marc Bean, Zane DeSilva, Randy Horton, Terry Lister, Kim Wilson, Dennis Lister and Michael Scott.
Right now the annual salary for Ministers is around $160,000 a year, however the OBA pledged to slash that by 10% during the election campaign.
Read More About