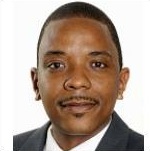 Makai Dickerson appeared in Magistrates Court this morning [Dec 27] in relation to a charge of possessing of 0.45gm of cannabis.
Prosecutor Garrett Byrne told the Court that Mr Dickerson initially denied possession, which he said placed him outside the scope of getting a Police caution. Senior Magistrate Archie Warner adjourned the matter to January 2013.
Mr Dickerson was previously scheduled to serve as a PLP candidate in the 2012 General Election, however stepped down after the news of his cannabis possession came to light.
A statement from Mr Dickerson admitting the incident said: "I made a mistake. I ask my God, my family and my community for forgiveness. While traveling to Dockyard one evening, some friends and I were pulled over at a checkpoint.
"We were searched and a very small amount of marijuana was found on my person. The substance was not mine and I didn't even know it was there. It was stuffed at the bottom of my friends' cigarette box which I had on my person.
"As instructed by the officer, I will appear at the Hamilton Police station on 16 December where I expect to receive a warning. I am certainly warned, and shaken. At no time did I ever ask anyone for help on this personal matter. I take full responsibility for my actions.
"I know that a lot of our young Bermudian men and women have experienced these kinds of challenges. It shows how strong a society we are that our people can make mistakes and be forgiven. I ask for that forgiveness," concluded Mr Dickerson.
Read More About
Category: All, Court Reports, Crime