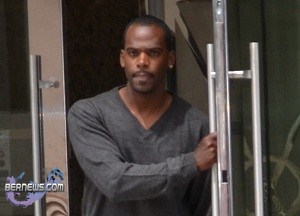 In Magistrates' Court this morning [May 13], after a lengthy legal argument put by their lawyer Marc Pettingill, 29 year-old Everett Jahni Bean was charged, by Magistrate Archie Warner, with the indictable offence that between a date unknown and 6th January 2011, he conspired with Randolph Simons to import a Controlled Drug, cocaine.
Since the offence is indictable and must be heard in the Supreme Court, he was not required to enter a plea.
Prior to the charge being put to them by Magistrate Archie Warner, Mr Pettingill, in open court, had argued that the matter should not proceed on this day but should, at the least, be delayed. Magistrate Warner ultimately rejected Mr Pettingill's arguments and went ahead with the process.
However, as the Magistrate read out the charge, he stopped reading and indicated that the 'information' that was before him needed to be modified in order that a proper charge might be laid. Over the strenuous objections of Mr Pettingill this was done and Prosecutor Ms Burgess amended the charge, to become the charge that was finally put.
Mr Pettingill had argued that Ms Burgess had no authority to make the amendment, but the Magistrate countered that Ms Burgess had the authority that was delegated by the Director of Public Prosecutions.
Bail was set at $10,000 each with a like Surety and he must re-appear for mention on 27th May 2011.
Read More About
Category: All, Court Reports, Crime, News