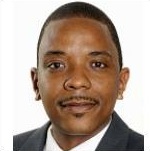 [Updated with video] Hours after the OBA issued a statement questioning an allegation that one of the PLP's candidates was facing drug charges, the PLP admitted that Makai Dickerson had been caught with a small amount of marijuana after being stopped by the police at a checkpoint.
Mr Dickerson is the PLP candidate for Constituency #12 Devonshire South Central, where he will challenge OBA Leader Craig Cannonier.
The statement by the OBA noted a radio report that they said "raised serious questions about the status of one of the PLP's election candidates facing drugs-related charges."
VSB had reported about a PLP candidate facing drugs charges, and also reported on allegations surrounding the party's conduct in relation to the matter. Mr Dickerson was not named in the report, although he had been rumoured to be the candidate in question.
OBA Chairman Thad Hollis said: "This is a serious allegation on two fronts: an unnamed election candidate allegedly facing drugs possession charges…"
"Since the report aired questions have been circulating unanswered and, more concerning, there have been no denials. The public has a right to know what is going on one way or another. We call on the Government to clear the air. We hope that the allegations are not true," concluded Mr Hollis.
The PLP issued a press release late last night admitting that Makai Dickerson was found with a "small amount of marijuana" after being pulled over at a checkpoint, and he will appear at the Hamilton Police station on 16 December in relation to the matter.
Mr Dickerson's statement said: "I made a mistake. I ask my God, my family and my community for forgiveness. While traveling to Dockyard one evening, some friends and I were pulled over at a checkpoint.
"We were searched and a very small amount of marijuana was found on my person. The substance was not mine and I didn't even know it was there. It was stuffed at the bottom of my friends' cigarette box which I had on my person.
"As instructed by the officer, I will appear at the Hamilton Police station on 16 December where I expect to receive a warning. I am certainly warned, and shaken. At no time did I ever ask anyone for help on this personal matter. I take full responsibility for my actions.
"I know that a lot of our young Bermudian men and women have experienced these kinds of challenges. It shows how strong a society we are that our people can make mistakes and be forgiven. I ask for that forgiveness," concluded Mr Dickerson.
A statement from the PLP said: "Makai has made a mistake. This mistake is one that is familiar to many Bermudian families. We believe in second chances.
"This young leader has faced challenges and has overcome. We know that he will overcome once again and that's why we are giving him this second chance. We encourage constituents in Constituency #12 to give him that second chance."
Update 12.11pm: At a press conference today on another topic, Minister of National Security Wayne Perinchief addressed Mr Dickerson's drug charge. Minister Perinchief said Mr Dickerson was arrested on Sept. 8th [which was before rolled out as a candidate on Sept. 26].
Minister Perinchief said it was not a "generally known thing he had been arrested" and they were "shocked and surprised and caught on the back foot by the revelation." The Minister said it "just came to the notice to people within the party…just within days."
Update: Both Senator Smith and Minister Perinchief were asked by a print reporter if they had smoked marijuana. Senator Smith said he had not, pointed out he does not even drink, and said that he is no different from any other candidate, and said that all 70-odd candidates should be asked. Minister Perinchief said "In my younger days, I had one puff yes, and unlike Bill Clinton I did inhale it. Have I been drug tested. Yes. Since I have been a politician. Yes. Was I clear, yes."
Read More About