In Magistrates Court yesterday [Dec 6], Michael Raynor, 31, of Pembroke admitted that he was riding whilst impaired on last week when he rode his bike through the Pembroke crime scene that had been set up after the shooting of a 20-year-old man.
Facing Senior Magistrate Archie Warner, Mr Raynor said that he was sorry that he had done so. For the DWI offence, the Senior Magistrate fined him $800 and disqualified him from driving all vehicles for 12 months.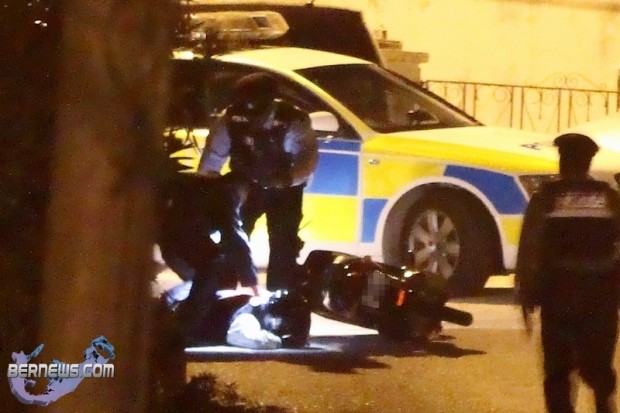 Mr Raynor requested time to pay the fine, which the Magistrate denied since he had been charged with another DWI offence in 2005, but never appeared in Court. The Magistrate dismissed the 2005 matter as it was seven years old, but use it as grounds to deny him time to pay the fine for this DWI offence.
On 1st December 2012 there was a shooting in the North Shore/Bandroom Lane area. Approximately one hour after the incident Mr Raynor ignored the police barrier and sped up Bandroom Lane onto the crime scene. He was forcibly stopped by Police resulting in both himself and the bike laying on the ground [pictured above]. He was arrested at the scene, and taken to Hamilton Police Station.
Read More About
Category: All, Court Reports, Crime, News