[Updated - Kenya's Shadrack Biwot and the USA's Sarah Brown win the 10K race]
Hundreds of runners and walkers gathered outside the National Stadium in Devonshire for the Bermuda Race Weekend's 10K running race, and walking event this morning [Jan 19].
The race got underway at 9am, and saw runners head along Montpelier Road, east on Middle Road, to Flatts, west along North Shore, then onto Palmetto Road and Frog Lane.
At the beginning of the race they announced that the race record holder, Geoff Smith, withdrew from the event after experiencing hip problems. The 59-year-old Englishman set the Bermuda 10k record back in 1982.
We will update with full results and additional footage as able, and in the meantime a quick video of the beginning of the race is below.
Update 10.42am: Kenya's Shadrack Biwot and the USA's Sarah Brown ran to victory in this morning's 10K.
Biwot claimed line honours in a time of 29.19, marking his third time winning this particular race. Fellow Kenyan Julius Bor finished second with a time of 30.11, to follow up on his victory during last night's Elite Mile. Stephen Pifer from the United States was third in a time of 31.04.
Men's winner Shadrack Biwot crossing the finish line: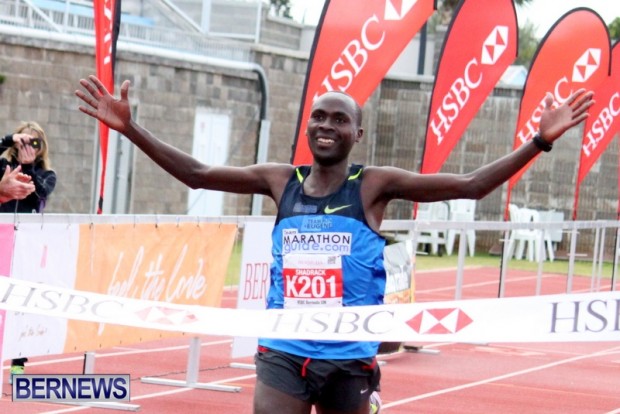 Stephen Allen was the first Bermuda male runner to cross the line, finishing 6th overall with a time of 33.39. Spencer Butterfield was the second Bermuda male finisher clocking 34.50 finishing 7th overall, Christopher Harris was the third Bermuda male finisher clocking 35.53, and Juma Mouchette was the 4th Bermuda finisher.
Sarah Brown was the first female and 8th finisher to cross the line clocking a time of 35.14. Olga Romanova from Russia was the second female finisher clocking 35.45 and Mardrea Hyman from Jamaica was the third female finisher clocking 37.47 finishing 19th overall.
Women's winner Sarah Brown crossing the finish line: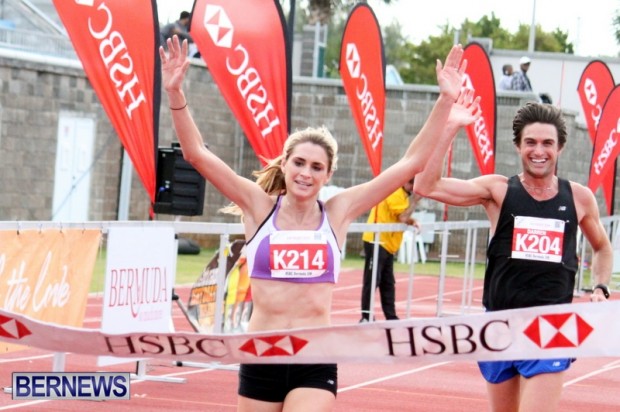 Rose-Anna Hoey was the first Bermuda female runner to cross the line clocking a time of 39.19 in 34th place overall. Tamika Williams was the second Bermuda female finisher crossing the line in a time of 40.40 finishing 40th overall. Bermuda's Dean Breary finished in a time of 42.10 to place 51st overall.
Update 12.24pm: The full results of the race and walk are below and here [PDF] Some 888 runners from a dozen different countries finished the 10K, and 300 walkers also took part.
Update 1.44pm: Small slideshow below with some of the top finishing local runners
Update 6.03pm: Video added below of the finish of the 10K
Read More About