[Updated] The rematch between Bermuda's Teresa Perozzi and Tori Nelson is set for this evening [Feb 2] at the Berkeley Institute, with both fighters hoping for a victory in the much anticipated rematch.
The two first met up in October 2012 at the Fairmont Southampton with the WBC Middleweight Title fight endeding in a draw.
The pair battled toe-to-toe, landing punch after punch but in the end Perozzi kept her WBA Middleweight Belt and the WBC Middleweight Belt that was once held by Nelson remained vacant after the three judge's decisions were announced.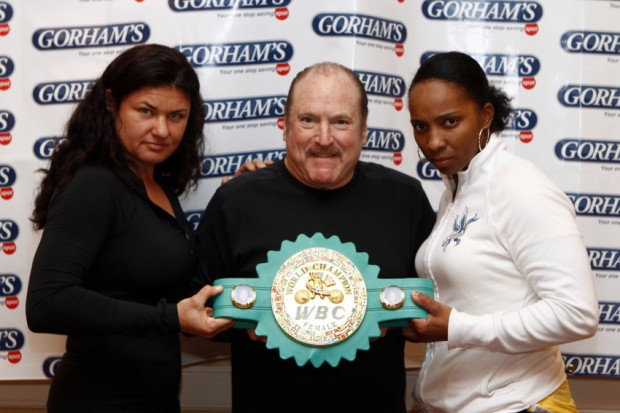 Ms Perozzi said, "I think it will be a better fight to be honest. I don't think either one of us expects exactly the same thing, you would be stupid to think you're going to get exactly that.
"I expect better from both of us. So we'll see Saturday night. I think we both feel confident and that's great, it's going to make for a great fight."
The two fighters held a press conference earlier this week, video below:
Other fighters scheduled to take the rink include Nikki Bascome, Brian Flynn, Tariq Lynchwade, Jashaun Thomas, Andrew Lambe, Bernard Opoku, David McHugh, Shannon Ford, Stefan Dill, Stephen Wright, Diandre Burgess, Reyel Bowen, Justin Tucker, Trey Simons, Corey Boyce, and U.S. fighters Christopher Gooch, Matthew Abregu, and Jose Israel Flores.
Tonight's action gets underway at 8pm at the Berkeley Institute, with the doors opening at 7pm. You can view footage of the Perozzi and Nelson's last fight, as well as all the other bouts held that night, by clicking here.
Update 5.21pm: The lineup for tonight is below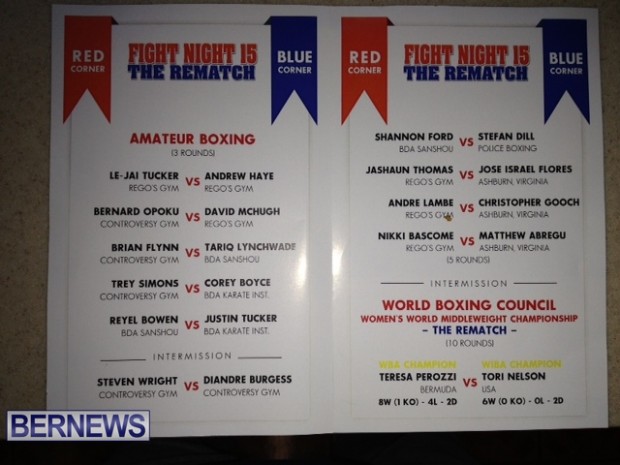 Read More About