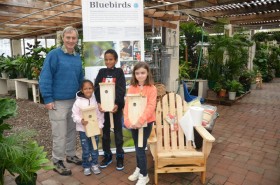 The Bermuda Audubon Society is flying high following the success of its Bluebird Nest Box Workshop held yesterday [Mar. 3] at Aberfeldy Nurseries in Paget.
With March marking the beginning of nesting season for the critically endangered native Bermuda bird, Society president Andrew Dobson [pictured here with three young workshop participants] outlined the ongoing plight it faces from both predators and encroachments on its natural habitat and then helped those in attendance build their own nest boxes.
Bluebirds — their numbers now reduced to approximately 500 — are almost completely dependent on man for their continuing survival in Bermuda.
The Audubon Society and its adjunct the Bermuda Bluebird Society have long been encouraging local residents to erect their own backyard bluebird boxes — and even entire trails if space allows.
The Bermuda Bluebird Society was founded in the 1980s by Bermudian Thomas Downing [Tommy] Outerbridge. Injured in a fall from a Warwick cliff-top while he was excavating Longtail nests in 1984, Mr. Outerbridge was rendered a quadriplegic. He now lives in the United Kingdom but still monitors efforts to save the Bermuda bluebird  from his home in Aylesbury, Buckinghamshire.
Music Video: "Mr. Bluebird Blue" By Tommy Outerbridge From His 1983 TV Documentary
Mr. Outerbridge said Bermuda will be required to take increasingly strong measures if the endemic songbird is going to be saved from extinction.
"When it comes to the plight of the bluebirds, it's a Dunkirk situation," Mr. Outebridge said this weekend. "If the entire Bermuda populace is not motivated to curb the fierce numbers of sparrows and starlings by actively waging war on them, then it is bye-bye bluebirds in Bermuda.
"Strangely enough, people who like sparrows and starlings can humanely help eliminate the threat. Simply build aviaries in all areas where you find most of these foreign and abundant birds. However these 'aviaries' are actually cages where the birds check in but never check out.
"The aviary is a big cage with a series of horizontal narrow two inch slits across the flat roof top. These openings allow the birds to drop down into the cage. The cage can be a good size with trees and perches, water, and plenty of food acting as a magnet. The sparrows and starlings would drop in and then simply live out the rest of their days. Like fish traps. As they congregate and their numbers grow, they act as a magnet for all their similarly feathered friends. Could easily be done. The sooner the better. Just takes the will."
 Bermuda Audubon Society Bluebird Nest Box Worshop
Photographs courtesy of the Bermuda Audubon Society
Read More About
Category: All, Entertainment, Environment, Environment, Music, Photos