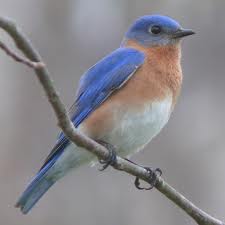 A new genetic study in the scientific journal "Molecular Ecology" suggests Bermuda's critically endangered bluebird is not unique to the island as has long been thought but was introduced shortly after the arrival of the first permanent settlers in 1612.
To measure how closely related the Bermuda birds are to their mainland counterparts, researchers from Rutgers University compared 12 gene sequences among eastern bluebirds living in Bermuda, along the US East coast, and in the midwest.
If the Bermuda bluebirds had been living isolated for thousands of years, they expected to see many genes unique to those birds.
"Considered native to the island and a distinct subspecies, this population has diverged in morphology relative to mainland North America," reports the study. "Using microsatellite markers and simulation of island colonization, we show that the Bermuda population of bluebirds is the likely result of a single colonisation event that occurred during the 1600s, making this a cryptic invader. To our knowledge, this is one of the youngest examples of a terrestrial vertebrate cryptic invader.
"We suggest that the eastern bluebird is not an isolated case of cryptic invader on either Bermuda or elsewhere and that caution be exercised when studying present-day distributions of organisms."
Writing at the "Scientific American's" webpage, natural history correspondent Hannah Waters said today [Apr. 8]: "Whether the bluebirds are native or invasive isn't the real question at hand, but whether they are unique enough in the world that they deserve extra conservation protection.
"They are not unique from other bluebirds, according to these new findings, and if a conservation organisation, for example, is trying to direct funding to preserve unique species, these bluebirds shouldn't be major priorities."
A flock of Bermuda bluebirds visiting the home of Ralph Richardson in 2011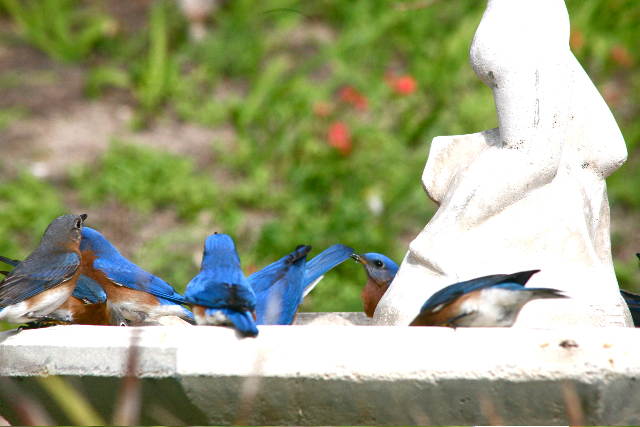 Bermuda's bluebird — its numbers are now estimated to be just 500 — is almost completely dependent on man for its survival.
Founded in the 1980s by Thomas Outerbridge, the Bermuda Bluebird Society now falls under the auspices of the Bermuda Audubon Society; both groups have long been encouraging local residents to erect their own backyard bluebird boxes — and even trails if space allows.
Mr. Outerbridge recently said Bermuda will be required to take increasingly strong measures if the local bluebird population is going to be saved from extinction.
"When it comes to the plight of the bluebirds, it's a Dunkirk situation," Mr. Outebridge said this weekend. "If the entire Bermuda populace is not motivated to curb the fierce numbers of sparrows and starlings by actively waging war on them, then it is bye-bye bluebirds in Bermuda."
Related Posts
Category: All, Environment