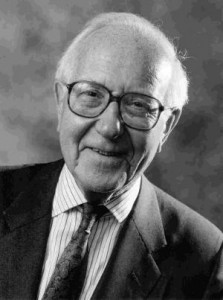 Former Governor Sir Peter Ramsbotham said entrenched racism turned Bermuda into "a one-party dictatorship" in the 1960s and '70s and was the underlying cause of the 1977 riots.
The riots, which broke out 33 years ago, convulsed Bermuda for three days, causing three deaths along with millions of dollars in property damage.
The immediate cause of the worst civil unrest in the island's history was the December 2, 1977 executions of murderers Larry Tacklyn and Erskine Durrant (Buck) Burrows — between them convicted of five killings, including the 1973 assassination of Governor Sir Richard Sharples and aide-de-camp Captain Hugh Sayers in the gardens of Government House.
The rioting led to Sir Peter calling in Royal Fusilliers to reinforce the Bermuda Regiment and restore order. But while the presence of British troops on the island helped to extinguish the flames of discontent, Sir Peter said they did nothing to correct the racial inequities which had fuelled the violence.
In a long, previously unpublished interview about his eminent career — he was British Ambassador to Washington before being unceremoniously removed from that posting and receiving the Bermuda appointment in 1977 — Sir Peter spoke candidly about the underlying racial, social and political frustrations which contributed to the riots.
"In a sense I made peace in Bermuda because I called for a Royal Commission to find out what had really caused these race riots and how you could stop it happening again," Sir Peter told Malcolm McBain, who interviewed him for the British Diplomatic Oral History Programme. "We chose Lord Pitt, who came out, the only black peer we had in the House of Lords, with a very good team. I chose members of the Opposition party and the Government party to join him, for three or four weeks. They allowed everybody in Bermuda who wanted to come, to say their piece, to say why they were upset by this, that or the other, in a racial sense, including all the dotty people. We had a wealthy local press who printed the whole lot out. So it all hung out."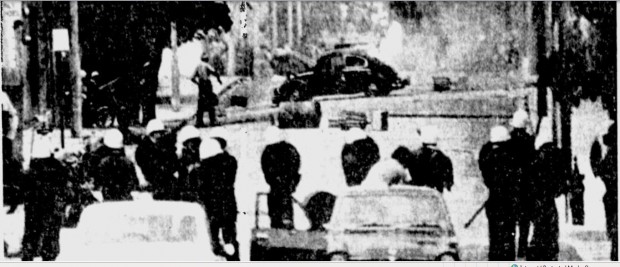 Sir Peter said the Commonwealth Residency Vote., enshrined in the 1968 Bermuda Constitution, provided British subjects age 21 or older who had lived in Bermuda for three years with the right to vote in elections — and this had long been a lightning rod for anger on the part of the then Opposition Progressive Labour Party as well as rank-and-file Bermudians.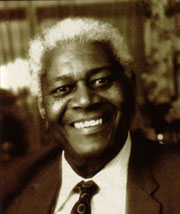 "This provision has been the subject of bitter resentment on the part of many Bermudians," concluded the Pitt Report into the riots [Lord David Pitt is pictured at left]. The report determined the number of Commonwealth residency voters "has been sufficient to have decided the outcomes of elections in several constituencies. It is said that the resentment it arouses was a contributory cause to the disturbances, and that it remains a threat to any programme of integration."
"We followed that (the Pitt Report) up by having a constitutional conference with a body from the Foreign Office and ourselves, and both parties were there, and we changed … what had been the vexatious point, constitutionally, which was called the Commonwealth vote," said Sir Peter. "Young white people, who'd been in Bermuda for more than three years, had the vote at the elections just because they were Commonwealth and white. This had virtually deprived the black Opposition party of ever really getting enough votes to get power.
"For 30 years, you'd had a one-party dictatorship there. So we eliminated the Commonwealth vote over a period of time. By doing so we reduced racial tension. Now the black Opposition have become the Government. Whether they will control the racial problems, I cannot tell. But that was the peace."
Sir Peter, who died in the UK in April at the age of 90, was described in one obituary as "combining a brilliant mind with a diffident manner … his rise to the highest rank in the Diplomatic Service appeared effortless. Ramsbotham's capacity for hard and creative work was phenomenal; and it was this, combined with his intellectual gifts and a certain underlying ambition, which marked him out early as a Foreign Office 'flier'. Yet his success was cloaked by modesty and by surprise, frequently expressed, at the confidence placed in his abilities by his superiors."
Yet his assignment as British ambassador to Washington in the 1970s that was meant to cap a distinguished diplomatic career ended on a humiliating note. He was abruptly removed from the Washington embassy by then Foreign Minister Dr. David Owen — who replaced him with London "Times" economics editor Peter Jay, an old university friend and the son-in-law of then British Prime Minister James Callaghan. Sir Peter accepted the offer of serving as Bermuda's Governor.
"They said, 'Where would you like to go?' I'd got another two and a half years to earn my pension. What on earth were they going to do with me?" said Sir Peter. " … Finally they came in and said, blushing a little bit, and said, 'Would you go as Governor and Commander-in-Chief to Bermuda?' I had to say 'Yes' because I had to earn my living and there was nothing else going. You can't suddenly offend the Bermudians by saying 'No', and after me they did at least have the Home Secretary who went there as Governor later on (Lord Waddington).
"So I said, 'Yes' and I was glad in many ways because my late wife (Lady Frances Ramsbotham), who was a good ambassadress in every way, was a gentle person, but found the life for an ambassadress in Washington with her own chauffeur, requirement to go on television, women's affairs and all that, tiring. I think she was happy in Washington, but in Bermuda she could do her own thing. She started her own disabled home (Summerhaven) and so on. So that was good."
It was presumed Bermuda would be a relaxing post where Sir Peter could spend his final years of service before his retirement. But he had hardly settled into Government House when the island was gripped by crisis — and the skills he had acquired during a 27-year diplomatic career were tested again, not so much by conditions on the ground in Bermuda but by what Sir Peter considered to be double-dealing on the part of Foreign Secretary Owen.
"Before I got there, I went to London and learned what was happening about the two black men, Bermudians, who had assassinated my predecessor but one, Sharples, who was (Field Marshal Bernard) Montgomery's Chief of Staff, was killed one night in his own grounds with a captain in the Welsh Guards who was his ADC," he said. "These same people also killed the Chief of Police and a Portuguese business couple. After several years, the investigation grinding along, they'd been sentenced to death by the courts in Bermuda. It had been to the Privy Council, which had confirmed the sentence, and that was how it was.
"The population was 60 percent black and 40 percent white, and you'd have had riots overnight if blacks were executed. In London (it must have been in July of 1977) I was assured that the (UK) Government intended to amend or abrogate what was called the Creech-Jones doctrine. Creech-Jones was a former Labour Minister and Colonial Secretary. They were going to amend it so that a Governor's recommendation for execution cold be commuted in London. I was also told that, some time before, I think it was (former Foreign Secretary) Alec Home had got the Queen to exercise her prerogative of mercy in a colonial case in Hong Kong. I was assured that this is what would happen. The Acting Governor, in between the last Governor and me, had received similar assurances, and what's more to the point, the new Premier, David Gibbons, had been so assured, as he thought, by David Owen himself when he visited London and who had drawn his attention to it and said, 'Please know that while you may have capital punishment on your books, we don't have it and we don't like it. I hope the Royal Prerogative of mercy is exercised and that your Government will abide by it.'
"The message seemed to be quite clear to Gibbons. And yet, after I'd been there a fortnight or so, a telegram came through from Owen to me saying 'I have been unable to advise The Queen to intervene to prevent the law taking its course'. When I went out to dinner with the Gibbonses I told him, 'You'd better hire an executioner.' We had to find one. I'm not allowed to say who it was  …"
Sir Peter said the conflicting messages he received from the Foreign Secretary and the Foreign Office left Bermuda authorities with no alternative but to follow the letter of the law and execute Burrows and Tacklyn at Casemates Prison on December 2, 1977.
Burrows, 33, was hanged for the murders of Police Commissioner George Duckett on September 9, 1972, Sir Richard Sharples and Captain Sayers on March 10, 1973, and supermarket owner Victor Rego and his assistant Mark Doe a month later. Tacklyn, 26, was convicted of the double-murder of the supermarket executives, shot to death execution-style during an armed robbery at the Supermart on Victoria Street.
"I felt badly let down by the Foreign Office and by the Foreign Secretary," said Sir Peter. "After the riots in Bermuda, the Permanent Under-Secretary, to whom I'd appealed, sent out Sir Anthony Duff (who was made a privy councillor for all the work he'd done on Rhodesia with Peter Carrington later) to help to investigate for London what had happened. I have a summary of his report and a note that the Foreign & Commonwealth Office Department concerned had 'concluded that it was a sorry catalogue of errors and failures in communication compounded by the absence of key officials from London at the crucial time and by the Secretary of State taking matters into his own hands and refusing to allow the explanations of Ministers' decisions to be sent to Bermuda'.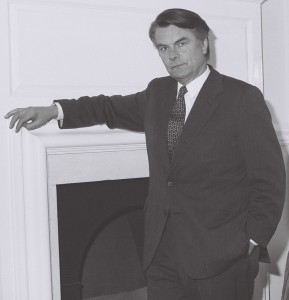 "It shows that I was kept deliberately uninformed by David Owen [pictured at the time at left], who scratched a paragraph from a telegram by the Foreign Office. I wasn't informed during this crucial period of two or three weeks, that the decision had been taken to leave it to the Governor for the recommendation to be carried out. It had to be, the sentence, because I had responsibility for capital punishment. My own prerogative of mercy committee had divided, six to four, in recommending it; and it had been so repeated in the House of Assembly, declaring that we should retain capital punishment, nearly two years before (the House could do that). I had no option. The sentence had been confirmed by the Privy Council."
Sir Peter said both Government House and the United Bermuda Party Government of the day had fully anticipated the executions would spark civil unrest and had been prepared for the ensuing paroxysm of burning and looting.
"As it was, one or two people died," he said. "After a bit I sent for my troops. I was Commander-in-Chief there, so to speak, and I was in charge of the Bermuda Army. But more than half of them were blacks, and were related to a lot of the rioters. I was up in my lovely residence, it was like a castle, great big towers, and they were burning down our supermarkets and other things. There we were, not in the Caribbean, we were in the middle of the Atlantic. You can't bring in gendarmerie or military police, there weren't any. So what was going to happen? I was responsible. I rang up (British Prime Minister) Callaghan, who mercifully had taken over a few months before from (Harold) Wilson who would have consulted other people. Callaghan was an ex-Petty Officer, he knew about war and things of that kind. I always had excellent relations with him, and I still do when I see him.
"Anyhow, he got me troops from Belize, from British Honduras, and they sent troops in a Hercules out from London. And it rained. I don't know which was the most important, but we stopped the riots."
Sir Peter stepped down as Bermuda's Governor in 1980. In 2000 he collaborated with former Premier Sir David Gibbons on a short book about their time working together during this watershed period in modern Bermuda's development titled "Partners in Peace and Prosperity."
Read More About