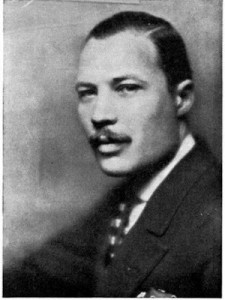 American author Willoughby Sharp's detective novel "Murder in Bermuda" [1933] has been described as "a fine examples of the Golden Age mystery, with good fair play puzzles, swift narratives" — and some interesting background detail drawn from the writer's own experiences on the island.
Mr. Sharp [pictured] had been living on the island for two years when he wrote the novel, resulting in the book's abundance of local colour — including references to Bermuda providing the United States with bootleg liquor during the Prohibition era [1919-1934] and a fictionalised version of the island's first black detective.
"Murder in Bermuda" details the investigation that occurs after Constable Simmons discovers a woman's body on Snake Road, on the morning before Easter.
The woman has been stabbed to death. A bouquet of lilies lies at her side.
The Constable Simmons character is based on Charles Edward Simons who was appointed as Bermuda's first Detective Officer in 1919. "D. O." Simons soon became a familiar figure to one and all as he cycled around Bermuda investigating crime in the 1920s and '30s.
"[T]here has never been a murder in Bermuda in my time …," pronounces a worried Chief of Police Masters after Constable Simmons reports to him. "I ask you to think of the most unpleasant publicity that would result if we admitted to be murder! Think how the interests of the island would suffer!"
But murder it proves to be.
"Damn it, Simmons!" cries Inspector McNear, "What's this island coming to when a girl's not safe on the highway?"
And another person soon is found dead, a man, polished off by a favored 1920s poison, mercury bichloride.
"If there's another crime in Hamilton I'm going to move to Chicago," announces one local resident.
Dust jacket of Willoughby Sharp's 1933 novel "Murder In Bermuda"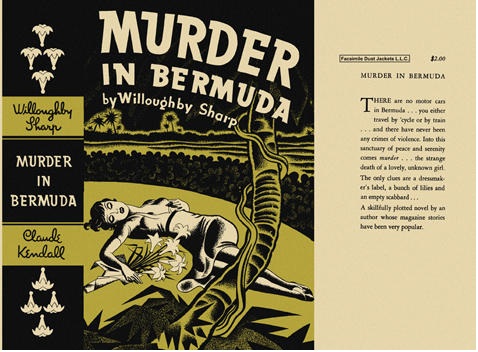 Recently the Passing Tramp website — a blog which specialises in the crime and mystery genre from the modern bestseller to the obscure and forgotten tales of many years ago — spotlighted "Murder In Bermuda" and its author.
William Willoughby Sharp [1900-1956] came from a prominent New York family. His father, also named William Willoughby Sharp, moved to New York from Norfolk, Virginia, where the Sharps had lived for generations.
"A year before his father's death in 1926, Mr. Sharp — a marine in the Great War and a Harvard graduate –he formed his own brokerage firm, the forbiddingly named Harde & Sharp," said the Passing Tramp. " However, only three years later he retired from business and moved to Bermuda, where he lived until 1935, when he returned to New York."
Mr. Sharp was married Muriel Manners, a Ziegfeld chorus girl, and after leaving Bermuda the couple settled in Sands Point, Long Island, the wealthy enclave that inspired the setting of F. Scott Fitzgerald's novel "The Great Gatsby."
The Passing Tramp said "Murder in Bermuda" could be designated as "an early police procedural, in that it depicts the whole Bermuda police force at work, with three individuals standing out: Inspector McNear, Chief of Police Masters and Superintendent Welch, who ultimately reaches the truth, after considerable peril to his life. Constable Simmons is the only black policeman readers see in action; thankfully he is not used as cheap comic relief, as one might expect from a book from this period …"
The notorious 1932 Lindbergh kidnapping case — in which the 20-month-old son of pioneering aviator was abducted from the family home in New Jersey — influenced the book's plot.
The Passing Tramp noted that the crimes in Bermuda may be connected in some way to the recent kidnapping of a child in the United States.
The blog said: "When introducing this subject … [the author] allows himself a little acid social commentary on the capricious and class-based news coverage priorities of the American press during the Great Depression: 'Quite typical of a rich, individualistic nation in which fifteen million men, with their wives and children, were undergoing various stages of starvation, the kidnapping of little Marcia Marsden from the Fifth Avenue home of her fabulously wealthy parents had filled the front sheets of America's daily newspapers until even the stirring foreign political news was crowded to an inside page."
The "Harvard Crimson" gave "Murder in Bermuda" a rave review, noting that Mr. Sharp "utilises all the long-accepted conventions of the mystery story, but he does so with such ingenuity and creates such a welter of involved circumstances that we are almost entirely unaware of his technical trickery."
The "Crimson" also noted the procedural aspect of the novel: "The pleasant variation from the general mystery story is the manner in which the various police officers working upon the case help each other and together see things through, so that in this story, instead of the one stereotyped super sleuth very nobly carrying on, we have the small group solve their problem by cooperative efforts."
The Passing Tramp report concluded that "Murder in Bermuda" represents "a class of Golden Age detective novel largely forgotten today, because it doesn't conform to the popular stereotypes. It's about neither a British gentleman amateur detective nor an American hard-boiled private eye, yet it's a good mystery tale nonetheless."
As the "Harvard Crimson" put it: "Mr. Sharp…has a good bit more to offer us than the average writer of murder stories. He unravels his sinister tale in fine literary style and writes vividly of a background he knows very well."
– Photos courtesy of The Passing Tramp
Read More About
Category: All, Entertainment