[Updated] Preparations are underway for the 2013 Around the Island Powerboat Race, which gets underway at 2pm in Ferry Reach today [Aug 11].
There are seventeen boats competing the annual event, which sees racers navigate around Bermuda at top speed, with last year seeing a fastest time overall of just under 34 minutes.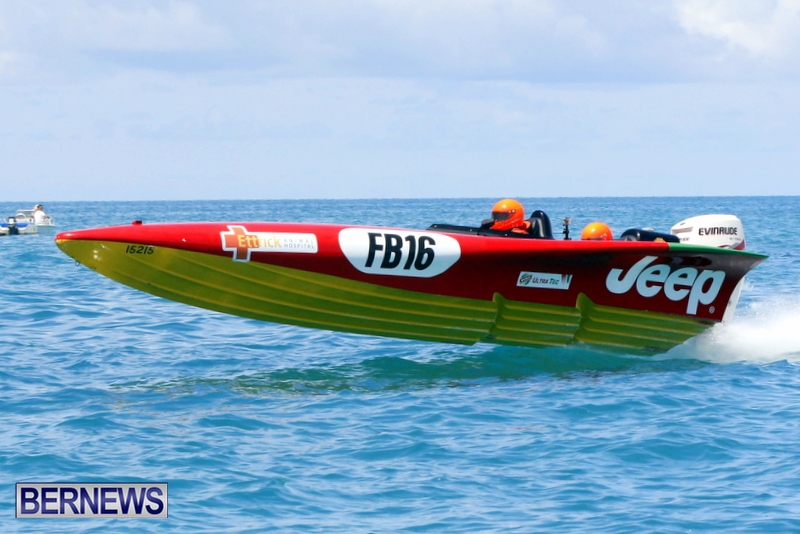 The race starts at Ferry Reach and proceeds along North Shore, through Two Rock Passage, around Whites Island, along the Harbour Road shoreline, around Daniels Head and on to South Shore.
A-Class has three entrants: A98 – Gregory Focke/Gregory Simons, A18 – Luke Parker/Dylan Carreiro and A77 – Jody Carreiro/Tony Carreiro.
There are four entrants in the FB-Class: FB16 – Ryan Davidge/Andrew Osborne, FB3 – Bobby DeCosta/Chris Wells, FB55 – Tonka Simpson/Cameron Harris and FB49 – Perry Foggo/TBA.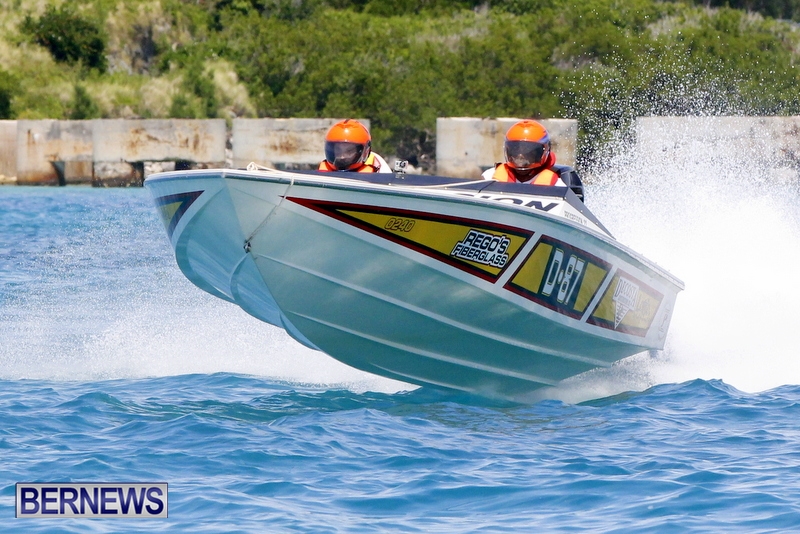 The Stock D-Class is the largest class with six entrants: SD441 – Quincy Dowling/Erik Desilva, SD37 – Dennis Trott/Darius Zuill, SD8 – David Selley/Mark Selley, SD420 – Kentwoin Jones/Callum Cunningham, SD881 – Treshun Correia/Tyler Smith, SD48 – Damon Morris/TBA
The D-Class will see Steven Eversley/Brandon Franks in D187, while Chad Sutherland/Mackie Wilson will be in D87. Henry Talbot/Howie Ascento in E4 are the lone E-Class entrants, while Keith Bridges/Steven Bridges have entered the S-Class in S20.
Update 6.32pm: Ryan Davidge and Andrew Osborne took the line honors, and also won the FB Class, covering the 54.2 mile race course in a class record time of 46:56.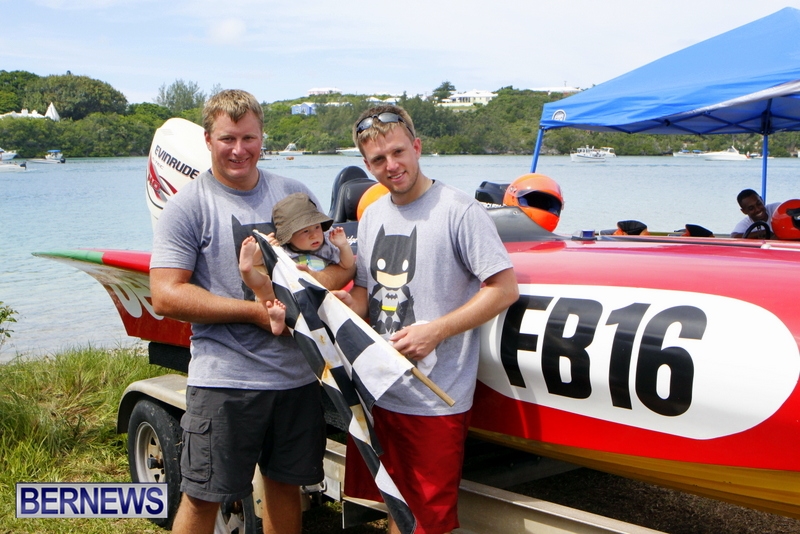 Steven Eversley and Brandon Franks crossed the line in a time of 41:14, setting a new Modified D Class Record. Also capturing Class Honors on the day was Jody and Tony Carreiro winning the A Class with a time of 1:04.42. Phillip Corriea and Jason Lopes clocked a time of 35.07 to set a new PX Class Record.
A Class
1:04.42 Jody & Tony Carreiro
1:06.40 Gregory Simons & Greg Focke
1:10.32 Luke Parker & Dylan Carreiro
FB Class
46:56 Ryan Davidge & Andrew Osbourne – Class Record
49:08 Perry Foggo & Carlos Lema
52.20 Tonka Simpson & Cameron Harris
Stock D Class
47:24 Mark & David Selley
50:12 Dennis Trott & Darius Zuill
DNF – Quincy Dowling & Erik DeSilva
Modified D Class
41:14 Steven Eversley & Brandon Franks – Class Record
47:59 Mackie Wilson & Chad Sutherland
52:21 Kentwon Jones & Callum Cunningham
S Class
DNF – Keith & Steven Bridges
PX Class
35:07 Phillip Corriea & Jason Lopes – Class Record
Click photos to enlarge:
Read More About