Known as the informal end of the Cup Match holiday, the Non Mariners Race took place today [Aug 4] at Mangrove Bay in Sandys, with crowds of people making their way to the west end to enjoy the day's fun.
Floats included the "HMS Burtlegger's Bliss", poking fun at MP David Burt's recent swizzle issue, as well an airplane themed float called "Cannonair" based on Premier Craig Cannonier's "jetgate" situation earlier this year.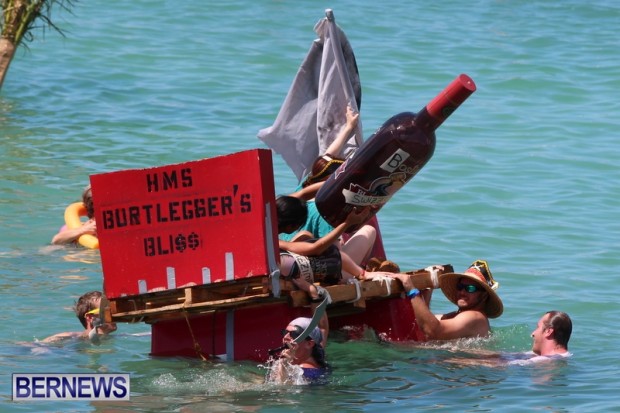 "HMS Bootlegging Bliss" was built by a group of people which included Nicholas Kempe, who ran against Mr Burt in C#18 Pembroke West Central in the 2012 General Election. Mr Burt stopped by today's event — swimming to shore — and watched his namesake float take to the waters after posing for a few photos with it.
Mr Burt wasn't the only politician to join in the fun at his own expense, with Premier Craig Cannonier also stopping by and climbing aboard "Cannonair" as it floated away on its way to winning the top prize. The Premier is pictured below on board "Cannonair", in a photo by Charles Anderson.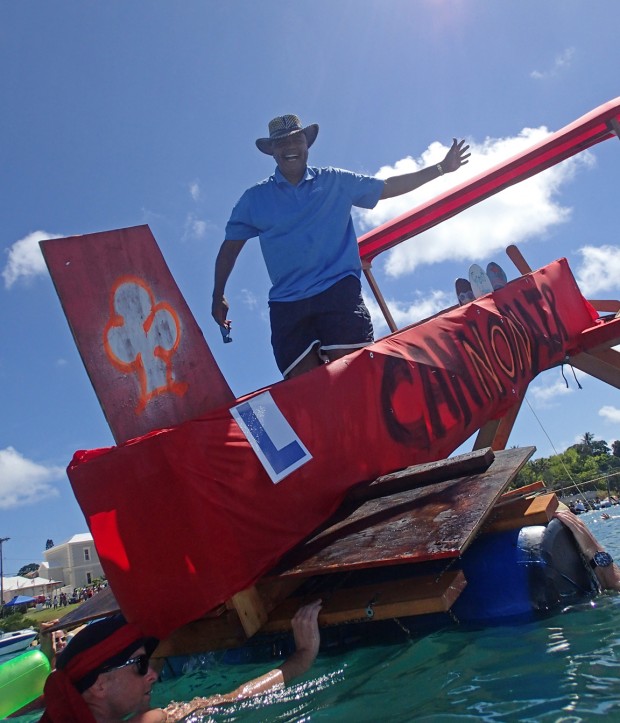 Hosted by well known comedian Bruce Barritt, the day also included other non-activities such as the Non-Colors Raising, Non-Penguins Fly Past, Non-Noodle Race, Non-Memorial to our Mascot, Non-Calypso Pipe Band, Non-Craft Race, and the Non-Trophy & Non-Prizegiving.
The event started over 40 years ago after a group of friends debated the flotation properties of baby carriages after one too many drinks. They decided to attempt to sail a baby carriage from Albuoy's Point to Whites Island, and the unsuccessful boating attempt was the start of the Non-Mariners Race.
A 4.5 hour webcast replay is here, and click to enlarge the photos below:
Read More About