For the third year in a row, Bermuda CableVision is partnering with The Hamilton Seventh Day Adventist Church to host a Christmas Day luncheon for families in need and other residents who may not otherwise be able to enjoy such a meal.
The luncheon will be held from 1.00pm – 3.00pm on Wednesday, December 25 at the Hamilton Seventh Day Adventist Church on King Street. Up to 200 families will be able to attend, and it is expected that the church hall will be filled to capacity, matching the success of last year's event.
The table set up at the 2011 Christmas Day luncheon: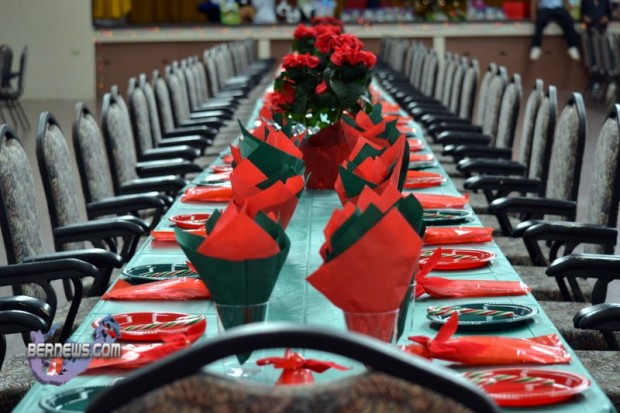 A sumptuous meal is being planned, to include the full traditional Christmas menu of turkey and all the trimmings, an array of savoury vegetarian dishes, and an assortment of holiday desserts. CableVision purchases and prepares the food and its employees will be on hand to help the church members serve the meals.
"We believe everyone should be able to experience the joy of Christmas around a delicious meal while sharing fellowship with people who care about them," said Terry Roberson, CEO of Bermuda CableVision.
"Recognising the growing need in our community, and having launched the 'Open Hands, Loving Hearts' Food Drive this year, we naturally wanted to participate in this event once again.
"We thank the Hamilton Seventh Day Adventist Church for their steadfast commitment to helping the less fortunate in our community. This is the true spirit of Christmas and we look forward to sharing it with all who join us."
"As Pastor of the Hamilton Seventh-day Church, I would like to express our joy in partnering with CableVision for the third edition of this special Christmas event," said Pastor Kenneth Manders.
"To share God's joy on Christmas Day is a privilege, and we are blessed to be able to invite these guests to our table. Thank you CableVision, for responding to the needs of our community as we share the joy of Christmas."
Volunteers and those interested in learning more or reserving a space are invited to phone the church office at 292-4276. 
Read More About
Category: All