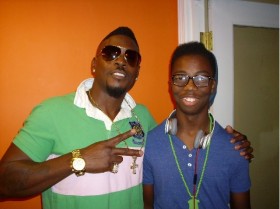 On the heels of his 2013 Hollywood Music in Media Award [HMMA] win for Best Rap/Hip Hop for his single, "Fly Away" last month, Kidd Clazzic is not wasting any time in producing more quality music. His new single, entitled "Brainstorm," is scheduled for release on Friday, December 20.
The single was produced by IVibes Productions and features ill Logical Linguistics, the 2012 HMMA winner for Best Rap/Hip Hop for his song "Go Slow".
Craig Simons of IVibes Productions stated, "It's a very exciting time for us here at IVibes Productions. I have recently been putting the finishing touches on a record that I cannot wait for everyone to hear. Over the past year I have been in the studio with PlayList Management and their client, up and coming hip hop talent, Kidd Clazzic.
"We released his single 'Fly Away' this summer; the HMMA win was a huge accomplishment considering it was the very first record we have all released as a collective. Coming off this win, we knew we had to step it up, and completely flip the next single on its axis.
"Kidd's understanding of authentic hip hop lyricism and his love of the art in itself helped mold the direction of the follow up single. With his HMMA in hand, it was a no-brainer to put former HMMA winner ill-Logical Linguistics on a track with Kidd to showcase just how forward thinking and ahead of his time this Kidd really is.
"The record is a no holds barred, boom bap, in your face homage to the golden era of hip-hop. The classic 90s sound rings through in the swung out drums, chopped samples, heavy baseline, and the absolute flawless flow of both Kidd and Fatz of ill-Logical Linguistics. Being in the studio to witness this 17 year old do what he was born to never ceases to amaze me and I am positive that he is the next big thing.
"The lane Kidd Clazzic is crafting is completely his own. PlayList Management has struck gold with this kid and I cannot wait to continue to help build his library and develop him into the great artist I already see inside of him."
DJ Vibes, CEO of Lifestyles Entertainment, will be releasing the song on his radio show on VIBE 103FM on the night of Friday, December 20.
DJ Vibes said, "As a Bermudian DJ, I am happy to play and support local artists. Kidd Clazzic is a talented artist and his hard work is evident in each of his projects. It brings me great satisfaction to see a fellow Bermudian succeed and continue to grow as an artist. Lifestyles Entertainment is therefore ecstatic to host the release of his upcoming track "Brainstorm" on VIBE 103 and encourages all to tune in at 9.00pm and support Kidd Clazzic."
Kidd Clazzic's HMMA-winning "Fly Away":
Read More About
Category: All, Entertainment, Music