The Department of Education and the Prospect Primary School yesterday celebrated the dedication of the school library in honour of a former teacher and reading specialist the late Mr. Michael Eugene Smith.
School Principal, Dr. Shangri-La Durham-Thompson and Literacy Coordinator, Ms. Deanna Deshield both spoke of Mr. Smith's passion for reading and tutoring his students.
L-R: Susan Masters; Dr. Lou Matthews; Sanshae Morrissey; Denise Morrissey; Debra Hunter; Tanya Rayner; DeVerne Bean; Deanna DeShield; LaVerne Simons; Shangri-La Durham Thompson and Mrs. Sylvia Smith.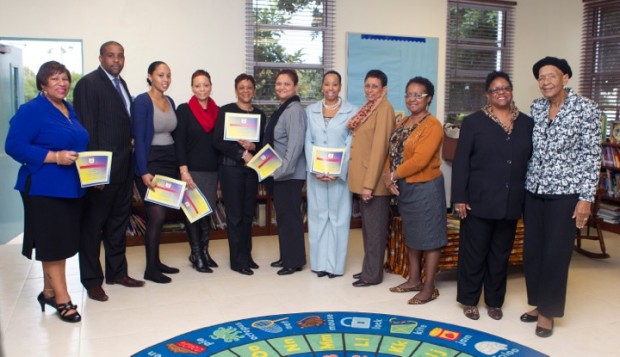 Volunteers along with the Continental Society of Bermuda have worked with the school to complete the project. The Continental Society presented the school with a financial donation of $500 toward purchasing books for the library.
Mr. Smith's family was present during the ceremony and thanked the school for honouring his memory. His sister, Beverley Jones said, "We are very proud of the legacy that Michael left and the impact he had on students and their families. In his passing we met so many students who were touched by his dedication to reading and literacy."
Ms. Laverne Simons, Department of Education Assistant Director for the Central Zone fondly recalled working with Mr. Smith and praised him for his love of reading and the many hours he spent sharing the gift of reading with students.
Dr. Durham-Thompson shared the following biography for Mr. Michael Smith [June 14, 1952 – December 21, 2005].
"Mr. Smith was educated at The Central School, now known as the Victor Scott Primary School, and the Churchill School in Prospect.
He attained a Bachelors Degree and later a Master of Science Degree in Education from the City University of New York, graduating in May, 1992. He was the son of Mrs. Sylvia Smith and the late Mr. Harold Smith. He was also the brother of Beverly, Rose and the late Wayne Harold Smith.
The Smith Family with Dr. Matthews and Dr. Durham -Thompson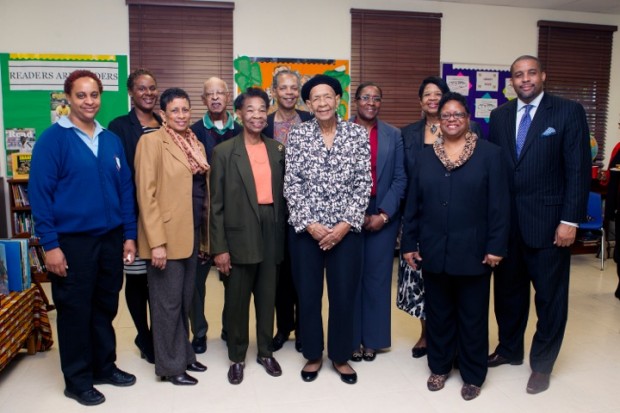 "Mr. Smith taught in a number of schools as a substitute teacher and a reading teacher. His last teaching assignment was at Prospect Primary School from 2001-2005. He was very concerned about the reading levels of his students and the progress that they were making. His greatest challenge was to ensure that students grasped the necessary reading skills in their year level.
"The Reading Recovery Program was especially important to him. He would often tutor students that needed extra help. Often he would have students in his room early before the school bell, assisting them with their reading or checking on their homework assignments. Parents have commented that their children are reading better today because of the time Mr. Smith spent with them.
"It was a real joy for Mr. Smith to be a part of the teaching profession. He has made great contributions to the education systems both locally, and in the United States of America.
Mr. Michael Smith will be fondly remembered as a meticulous dresser with a passion for tennis, also as a man of few words but a deep thinker and avid reader."
Read More About